Turkey Coup Crushed, President Recep Tayyip Erdogan Remains in Control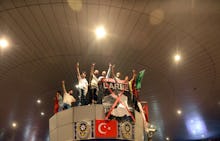 The Turkish government in Ankara crushed an attempted coup d'etat on Friday night, with forces loyal to President Recep Tayyip Erdogan and his ruling AKP party repelling an operation of unknown size to depose his government and declare martial law.
According to CNN, as of Saturday morning it is believed at least 161 people died, 1,440 others were injured and some 2,839 military officers have been arrested, per presidential spokespeople. Plotters conspired to seize important government buildings in Ankara and Istanbul including the Turkish parliament, as well as take control of Turkish state media and independent papers and broadcasters. Soldiers stormed CNN Turkey, forcing its personnel off the air, though met resistance from demonstrators and network staff.
An attack on or near the presidential compound may have been an attempt to kill Erdogan or capture him, WBUR reported. Erdogan said those involved "will pay a heavy price for their treason to Turkey," reported the L.A. Times.
"The situation unfolded in Turkey was a coup attempt to overthrow the democratically-elected government," the government said in a statement. "This attempt was foiled by the Turkish people in unity and solidarity. Our President and Government are in charge. Turkish Armed Forces was not involved in the coup attempt in its entirety. It was conducted by a clique within the Armed Forces and received a well-deserved response from our nation."
The plotters called themselves the "Peace in the Nation" council and declared martial law and a curfew. State media said the military forces opened fire on the national intelligence headquarters with helicopters and engaged in skirmishes throughout the capital, reported CNN.
Government forces and pro-Erdogan demonstrators turned out to suppress the coup, with crowds of angry civilians attacking and beating surrendering soldiers. One particularly graphic video circulating on Twitter appeared to show the aftermath of an armored vehicle fleeing the capital driving through a crowd of civilians, leaving mangled bodies in its wake, though it could not be immediately verified by Mic.
Photos from Ankara showed dramatic scenes from the incident and its aftermath.
While information about the coup is still emerging, Erdogan has blamed the Gulenist movement, a moderate Sunni political movement led by self-exiled Turkish cleric Fethullah Gülen, who lives in Pennsylvania. However, Gülen denounced the coup, according to Time.
Other possible perpetrators include elements of the military wary of Erdogan's recent consolidation of executive power and shifts towards Islamization of the Turkish government.
Some Turkish soldiers who surrendered said they initially believed their orders were a mere training exercise. According to WBUR, the government has named two major coup leaders, retired Gen. Akin Ozturk and "Lt. Gen. Metin Iyidil, the commander of combat and support training."
According to Vox, one reason the coup may have failed was the military "failed to establish the perception that they were fully in control, and hence failed to win the overwhelming bulk of the military to their side."
"We had no clear statement from the coup forces," University of North Carolina Prof. Zeynep Tufekci tweeted, Vox reported. "No leader came on TV, no real manifesto. In Turkey, successful coup attempts are massive, happen within chain-of-command, and take over media immediately."
Read more: