Unsung Style Icon: Eartha Kitt, Lover of Animal Prints and Turbans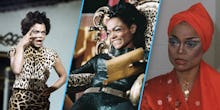 Eartha Kitt was the personification of the word "fierce," with a six-decades-long career worthy of being lusted over. Or, rather, purred over. 
Although she grew up poor on a South Carolina cotton plantation, she moved to New York City at a young age and was quickly thrust into the arts, taking up dancing, singing and acting. By 25, she was considered a  Broadway star with a starring role in New Faces of 1952. Of the performance, the New York Times reported, "Eartha Kitt not only looks incendiary, but she can make a song burst into flame." 
Throughout the ensuing decades, which would include her giving the world "Santa Baby" and being cast — at 40, no less — as Catwoman on Batman, she would earn a reputation as one of the first black sex symbols, with director Orson Welles calling her "the most exciting woman alive." 
But rather than ride on sexy, she also got political. In the 1960s, she publicly protested the Vietnam War, telling then-first lady Lady Bird Johnson (to her face), "The children of America are not rebelling for no reason." She also once delivered a feminist monologue so powerful that it was broadcasted during a Beyoncé concert. "Compromise?" she cackled. "What is compromising? Compromising for what? ... A man comes into my life and I have to compromise?"
In addition to all those accomplishments, though, one thing many overlook is just what a powerful force she was in fashion. Rather than conform to society's ideas on how a black sex symbol should dress, she made her own rules. She defined her own sexy. She defined her own particular brand of glamour. 
Here are just a few instances of Kitt being far ahead of the style curve then and even now, nearly eight years after her death. 
Kitt never shied away from an entirely animal print ensemble. 
During performances in the 1940s and 1950s, Eartha Kitt dressed the way that singers of that era were supposed to dress, wearing ultra feminine silhouettes and pearls. After all, she was one of only a few successful black women in music at the time, so how could she break the rules? Even in the studio, she promoted the typical ladylike glamour, wearing high-waisted pants and wide belts with turtlenecks.
However, as the 50s turned into the 60s, and fashion became all the more tighter and suggestive, Kitt got bolder, becoming one of the first women of color in the industry to really embrace and take risks with fashion, following in the footsteps of women like Josephine Baker. Rather than slipping into an hourglass of silk or satin, she poured herself into tight cheetah-print dresses and pencil skirts, which only enhanced her shimmy. This was when Kitt's persona changed from just being a hugely talented singer and dancer to being a sex symbol. 
And with animal prints and sex appeal now inherently linked, Kitt set up a standard for women in the industry after her, from Barbra Streisand to Tina Turner, who both giddily wrapped themselves in entirely animal print ensembles. 
The animal prints themselves were also a bit of a premonition for Kitt, because just a few years after her first foray into the wild side, she caught the eyes of producers looking for a woman who could encapsulate a villain with the characteristics of a certain kind of domesticated feline. 
Before Beyoncé, Kitt made dancewear sexy as hell. 
In the 1957 film Funny Face, Audrey Hepburn plays a bookstore employee-turned-model. In one iconic scene with Fred Astaire, she prances around in all-black spandex and white socks. After Hepburn, dancewear equaled chic sophistication. But it would take Eartha Kitt slipping into dancewear (often paired with a belt) to make it sexy. 
While Hepburn was playing a character, Kitt in dancewear was actually authentic, with her slipping into all-black as she hosted dance lessons for women and men in the 1960s who desperately wanted to learn how to slink around on a stage just as effortlessly as she did. 
Although we're almost positive there's no way of teaching this, Kitt was more than happy to oblige them, offering dance classes of her own in Hollywood and one-on-one lessons to up-and-coming stars like James Dean. 
More than 40 years later, Beyoncé would take note of this sophisticated yet sexy look, borrowing the idea of all-black dancewear for her video for "Countdown."  
Turbans, turbans, turbans 
There are the kind of accessories that look good on nearly everyone, like a wide belt or boot-cut jeans, and then there are the kind that only a select few people can pull off. It's the kind of accessory that divides people between the blessed and not-so-blessed. 
When it comes to turbans, Eartha Kitt was undoubtedly the most blessed of them all. What can easily look like a tight showercap on some people looked spectacular on Kitt — and she knew it. During red carpet appearances and interviews backstage at her shows throughout the 1970s, Kitt was often seen wearing a tight satin turban that perfectly framed her flared eyeliner and high cheekbones.
More than 40 years later, turbans and headwraps are sold by mainstream retailers like ASOS and Urban Outfitters, but that doesn't mean anyone else pulls it off quite like Kitt. 
Kitt effectively turned the cat into a fashion statement. 
As the New York Times noted, since practically the beginning of her career, critics have described and praised Kitt with nearly every feline characteristic possible, saying that "her voice 'purred' or 'was like catnip'; she was a 'sex kitten' who 'slinked' or was 'on the prowl' across the stage, sometimes 'flashing her claws.'" Critics even noted that her career seemed to have nine lives. 
So, rather appropriately, in the late 1960s, Kitt nabbed the role of Catwoman on the TV series Batman. To perfect her look, she donned a black metallic bodysuit, a black mask emulative of cat eyes and a pair of ears. She was sexy, she was slinky and she was able to embody the main peculiar traits of a cat, down to her signature purr. 
Thanks to her, the cat was then a frequent character in fashion, with designers like PPQ and Givenchy still using the domesticated feline as an inspiration in 2011, sending out models on the catwalk (pun intended) with hats and helmets adorned with ears. 
Eartha Kitt had an undoubtedly momentous and certainly unpredictable career, from a poor girl in South Carolina to a Broadway star to Catwoman to the voice of Yzma in The Emperor's New Groove. But it was through her distinct sense of style that she brought fabulous head-to-toe animal print into the mainstream, and gave us the opportunity to wear cat ears too. 
And just think: Without Eartha Kitt, Ariana Grande could have never gotten away with wearing cat ears as a serious accessory. The horror. 
Read more: