#2016in3words Captures the Crappy Year the U.S. Has Had So Far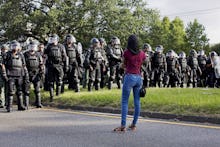 There are still more than four months left in 2016, and the year has seen multiple high-profile mass shootings and terrorist attacks, police shootings of black men, Brexit, an attempted coup d'etat in Turkey, and the rise of two widely disliked presumptive presidential nominees, Donald Trump and Hillary Clinton.
It's enough to make even otherwise positive people feel disheartened. But since Twitter is not full of positive people, you can instead enjoy #2016in3words, a hashtag for social media users who think the world is really going to shit this year:
It's also attracted a fair number of activist posts on issues including Black Lives Matter and climate change.
Since the hashtag began trending at the end of last week, thousands of Twitter users have contributed. Here's some of the best posts:
For those similarly feeling like 2016 has been a terrible year, don't get too down over it: There's always 2017 to look forward to. Err, right.
Read more: