Can You Spot the Reason People Are Pissed About Paul Ryan's Latest Instagram Post?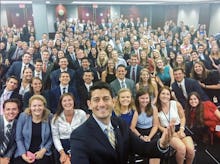 There's one thing the interns of Capitol Hill have in common, judging by this photo.
On Saturday, House Speaker Paul Ryan snapped a selfie with a large — and largely homogenous — pool of Capitol Hill interns and posted it to Instagram. In light of the picture's racial makeup, his caption struck many users as somewhat tone deaf. 
"I think this sets a record for the most number of #CapitolHill interns in a single selfie. #SpeakerSelfie," Ryan captioned the photo. 
The highest number of interns in a single frame wasn't the photo's only feat, as commenters were quick to point out.
"And it's a new record for most white people in one photo!" one Instagram user said.
Unfortunately, the photo reflects the very white reality of Capitol Hill: A study released by the Joint Center for Political and Economic Studies in December 2015 found that people of color made up just 7.1% of senior Senate staff, whereas they comprise 36% of the larger U.S. population.
A number of initiatives exist to attract a diverse intern base, but as this photo suggests, government has a long way to go before its members look like the people they represent. 
Read more: