Meet Donald Trump's Family: Melania, Donald Jr., Ivanka, Eric, Tiffany and Barron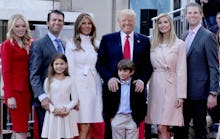 Being a Trump is very much a business, as at least three of Donald Trump's children and his wife will attest.   
"Not only are we his family, we also happen to be the people who have sat across the boardroom table from him for over a decade," his son, Eric, told the Wall Street Journal. "Very few people can replicate that level of trust."
And because they know him best, each member of the presumptive Republican nominee's family (excluding Barron, who is a child) will take the stage at the party's convention to hammer away at the side of Trump the world doesn't often see. 
"You know who Donald Trump loves and values — it's his family," George Stephanopoulos said. "That's why you'll see a member of his family speaking out every single night, starting with Melania."
We will also start with Melania. Herewith, everything the reader need know about Trump's family.
Melania
Melania is Trump's third wife. The 46-year-old former model married her now-husband in 2005; her previous profession brought her some nude work, for which she has been trolled during the course of the campaign. Her husband didn't help to deescalate the dispute.
Originally from Slovenia, Melania is herself an immigrant, which one might think would make her husband's stance on immigration — very much against it — a point of contention. Not so, however. Melania has clarified that her husband's position only extends to "illegal immigrants" and thus is not offensive to her.
Melania is a quiet presence in her husband's campaign and would likely be a "quiet First Lady," Jackie Kennedy-esque, as first family historian Katherine Jellison told NPR. Melania, for her part, told NPR that charities would be a priority for her. "I'm very involved in charities now," she said. "Many, many charities, involving children, involving many different diseases. And if the time comes, I will choose what is dearest to my heart and work on that [one] hundred percent."
She also said that she keeps her husband constantly apprised of the news and, if she could choose one thing for him to "tone down," it would be the tweeting. Same.
Donald Trump Jr.
Donald Jr. is Trump's eldest son and first child with first wife, Ivana Trump. Just like his father, Donald Jr. tweets — a lot. Also like his father, he does not feel the constraints of political correctness. 
Donald Jr. is an executive vice president with the Trump Organization. At 38, he has five children with his wife, Vanessa Haydon, a former model. In a November interview with Barbara Walters, the eldest of Trump's spawn defended his father's parenting methods, saying he'd instilled in his children an appreciation for hard work. 
"We refer to it as 'The Trump Guilt,' when we wake up on Saturday and we're not working," he said. "To say we weren't spoiled would be laughable, but we were spoiled with great education, great experiences."
"We always had to sort of earn whatever it is that we wanted. And that drive, I think, prevented us from doing a lot of the other things that you've seen as, you know, downfalls, perhaps, in other children who have similar circumstances."
In that same interview, Donald Jr. also explained that Trump's brash, some might even say offensive, comments have been misunderstood: 
"If people really break down what he's trying to say, there's no malice in there. He's just cutting through the nonsense and getting to the point and not wasting time. That's what he does."
Ivanka
"She does have a very nice figure," Trump said of Ivanka on the View in 2006. "I've said that if Ivanka weren't my daughter, perhaps I'd be dating her."
Widely regarded as the most reasonable of the Trumps, Ivanka, 34, is a businessperson who runs her own fashion lines and holds the position of executive vice president in her father's real estate company. A former model, she is Trump's second child with Ivana and is married to Jared Kushner, with whom she has three children. 
Ivanka serves a check on her father's bloviating persona: "the cautious, measured power behind the striving, showy candidate," as Michael D'Antonio described her in a profile for Politico Magazine. Because she is reserved and diplomatic in a way that Trump is not, Ivanka is essentially his right hand and a pillar of his campaign. The Hill has referred to her as Trump's "secret weapon," helping to paint him as a "good parent." Trump does not know how to change a diaper. 
Because he hires women, Ivanka maintains that her father is a feminist. Certainly, his relationship toward women has been rocky, to say the least, but for anyone looking for confirmation of Trump's position on feminism, his selection of Indiana Gov. Mike Pence, a notorious opponent of women's reproductive well-being, should say it all.
Eric
Eric Trump, 32, is Trump's third and final child with Ivana, and also occupies an executive vice president role at the Trump Organization. According to the Hill, Eric "has emerged as a vocal attack dog for his father." 
In response to an investigation by the Washington Post into the presumptive nominee's claims to a history of generous charitable donation, Eric recently stepped up to advertise that his father had donated hundreds of thousands to the Eric Trump Foundation over the years. When the Post pressed him for specifics, Eric was unable to provide them, saying, "I'm sure there have been but without going back through 10 years, I wouldn't remember check for check off the top of my head." 
"Just to be clear, I never said no," he stated in a follow-up email. "I have a lot going on — I just don't have the time."
Eric is married to CBS producer Lara Yunaska and has yet to have children. Chelsea Handler does not think very highly of him. 
Tiffany
Tiffany Trump could reasonably be called the black sheep of Trump's children; she doesn't serve as an advisor and campaign manager ouster, as her three older siblings do. Before the launch of Trump's quest to Make America Great Again, Tiffany was rarely seen — she was raised primarily by her mother, Trump's second wife and Dancing With the Stars alum, Marla Maples, in Los Angeles. At 22, Tiffany is a recent graduate of the University of Pennsylvania. Oh, she's also an Instagram celebrity.
According to the Washington Post, her nearly 160,000 followers qualify her as "'a mid- to top-tier influencer,' on par with the likes of minor reality TV stars." She is a member of a children-of-the-famous clique the New York Times dubbed the "Snap Pack," thanks to their social media sensibilities. 
In addition to the dubious fame that comes with being a "rich kid of Instagram," Tiffany also has a pop single, "Like a Bird," to her credit. 
Barron
At age 10, Barron Trump is Donald Trump's youngest child. He's also the presumptive nominee's only child with current wife, Melania. There's not much to say about Barron, because of his being a kid and everything. He doesn't often campaign with his father, instead spending his time attending a private school in New York City. As his mother told ABC, Barron "is not a sweatpants child. He doesn't mind putting on a suit — but not every day — and he likes to dress up in a tie sometimes like daddy."
As his father told ABC, Barron is "mini-Donald." We are sure Donald Jr. is not bothered by this at all. 
Read more: