Obama Condemns Violence Against Police in Statement on Baton Rouge Shootings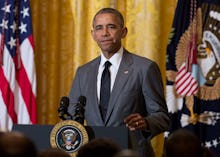 President Barack Obama issued a strongly-worded statement on the deaths of at least three police officers and the wounding of seven others in Baton Rouge, Louisiana on Sunday, condemning the shooting as "cowardly and reprehensible."
"We may not yet know the motives for this attack, but I want to be clear: there is no justification for violence against law enforcement," he added. "None. These attacks are the work of cowards who speak for no one. They right no wrongs. They advance no causes."
In the wake of a mass shooting of 12 police officers, five of whom died, and two others in Dallas at a peaceful Black Lives Matter protest, the president's critics have blamed Obama for supposedly encouraging a "war" on the nation's police officers. Following news of the shooting in Baton Rouge this morning, presumptive Republican presidential nominee Donald Trump blamed "a lack of leadership in our country" for the deaths, while Cleveland police union chief Steve Loomis told Fox News that Obama had "blood on his hands."
In particular, critics singled out the president for describing the recent police killings of Alton Sterling in Baton Rouge and Philando Castile in Minnesota as part of a larger pattern of racial inequality in U.S. policing.
"There's a big chunk of our fellow citizenry that feels as if because the color of their skin they're not being treated the same," Obama told a crowd of reporters in Poland on July 7, according to the Wall Street Journal. "And that hurts. And that should trouble all of us."
Prominent Black Lives Matter activist DeRay Mckesson also condemned the violence on Sunday, saying "The movement began as a call to end violence. That call remains."
Violent police deaths in the line of duty and reported assaults on law enforcement officials have actually fallen to their lowest rates in decades, according to a recent analysis in the Washington Post.
Read more: