Gavin Eugene Long Named as Suspect in Killing of Three Police in Baton Rouge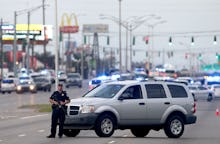 Authorities have named Gavin Eugene Long, a black man from Kansas City, Missouri, as the suspected shooter in a gun battle that killed at least three officers and wounded at least three others in Baton Rouge, Louisiana, on Sunday.
Law enforcement officials found Long's body following the shootout. According to CBS News, Long was born on July 17, 1987, meaning he died on his 29th birthday.
Little is known about Long or his motivations at this time, but Baton Rouge police have faced weeks of protests over the lethal shooting of black man Alton Sterling in early July. Sterling was shot multiple times while pinned by two police officers. Days later, another black man named Philando Castile was shot by Minnesota police. A peaceful Black Lives Matter demonstration over both shootings in Dallas was then struck by a gunman who opened fire on police, killing five officers and wounding nine others.
However, MSNBC's Pete Williams reported one person of interest in the current investigation may be a member of the sovereign citizen movement, a far-right movement alleging they are exempt from most U.S. laws. The Wall Street Journal, citing an anonymous source, reported Long may have been affiliated with an organization called the New Freedom Group.
In a statement Sunday afternoon, President Barack Obama called the shootings of police in Baton Rouge and Dallas "the work of cowards who speak for no one. They right no wrongs. They advance no causes."
Presumptive Republican presidential nominee Donald Trump, as well as the Cleveland police union chief Steve Loomis, both blamed the president for the shootings on Sunday.
Read more: