Baton Rouge Shooting Victims: These Are the Names of the Officers Killed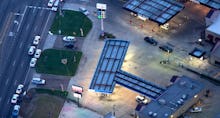 Family members have identified Officer Montrell Jackson as one of the three Baton Rouge, Louisiana, police officers killed by gunman Gavin Eugene Long on Sunday. According to CNN, "sources close to the department" named the other two victims as officers Matthew Gerald and Brad Garafola. 
The shooting follows the death of 37-year-old Alton Sterling, who was shot and killed by Baton Rouge police officers earlier this month. Though details are still emerging regarding Long's motives, he appears to have had praised Micah Johnson, the shooter who killed five police officers in Dallas on July 7 during a peaceful protest. 
Here's what we know about the lives of the three slain Baton Rouge officers so far:
Montrell Jackson, 32
Kristi Vick Godal — Jackson's neighbor, according to a CNN report — shared a post from Jackson's Facebook page from July 8 commenting on the Dallas Shooting. Jackson wrote that he was "physically and emotionally" exhausted from that week's events. "I swear to God I love this city but I wonder if this city loves me," he wrote. 
"I'm working in these streets so any protesters, officers, friends, family or whoever — if you see me and need a hug or want to say a prayer, I got you."
Jackson's aunt was the one to identify Jackson, telling CNN, "Today isn't going too well." 
According to Texas Supreme Court Justice Don Willett, Jackson left behind one child.
Matthew Gerald, 41
According to the Washington Post, Gerald joined the Baton Rouge Police Department just last year, after serving in both the marines and military.
"Matt was the kind of guy that you knew immediately when he entered the room," Ryan D. Cabral, who served alongside Gerald during one of his three deployments in Iraq, told the Washington Post. On Sunday he added, "Today he did his final service by giving his life to protect the citizens of Baton Rouge and his fellow brothers and sisters in uniform."
Gerald is survived by two children.
Brad Garafola, 45
Garafola, a father of four, was killed on the last shift he had to work before his vacation, scheduled to begin on Monday, according to the Advocate.
His wife, Tonja Garafola, told the outlet, "Everybody on this street depended on him."
She continued, "He was a great guy. Not just a great law enforcement, he was a great husband and a great father. He didn't deserve this. He always helped everybody." 
"These attacks are the work of cowards who speak for no one," wrote President Obama in a statement on Sunday. "They right no wrongs. They advance no causes."
Read more: