In One Snapchat Story, Kim Kardashian West Just Set Fire to the Kanye-Taylor Feud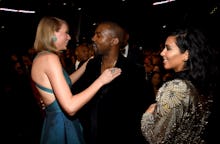 In the latest episode of Keeping up with the Kardashians, Kim Kardashian West tells sister Kourtney about an alleged misunderstanding between husband Kanye West and singer Taylor Swift over a line in his song "Famous." The tiff was the centerpiece of Kardashian West's June profile in GQ.
"At this point... I'll do whatever to protect my husband," she says on the show.
Kardashian West certainly knows how to make good on her word. Later Sunday night, the reality star posted footage to Snapchat of Swift agreeing to the lyric —  "I feel like me and Taylor might still have sex/ Why? I made that bitch famous" in the song's final cut.
"I want things to make you feel good," West tells Swift over the phone in the video after telling her about the lyric. "I don't want to do rap that makes people feel bad."
Swift tells West to "go with whatever line you think is better," adding that it's "obviously very tongue-in-cheek either way." The singer says she appreciates the gesture, which West says he felt he owed her "as a friend."
For Twitter users, the evidence spoke for itself:
Following the backlash, Swift posted a screenshot of an iPhone note to her Instagram account with the caption: "That moment when Kanye West secretly records your phone call, then Kim posts it on the internet."
In the note, Swift points out there is no video evidence of West asking specifically about referring to Swift as "that bitch" and accuses the couple of committing "character assassination."
Singer Selena Gomez, known to be one of Swift's best friends, came to her defense, tweeting, "There are more important things to talk about... Why can't people use their voice for something that fucking matters?" 
However, the tweet backfired on Gomez when Twitter users alleged that while Kardashian West has spoken out on issues like the Black Lives Matter movement, Gomez has appeared to be silent.
Others argued that the feud, which some deemed no more than petty celebrity gossip, played on a racist trope meant to cast white women in a positive light and black men in a negative one.
Some couldn't help but remember the original Kanye-Taylor beef:
And at least one user couldn't wait to see who Kardashian West might take down next:
Of course, ever the businesswoman, the star released a new Kimoji earlier that day that seemed too perfect to be coincidental:
Haters, beware: Kardashian West has read The Art of War.
Read more: