GOP Chair Reince Priebus Says Having Straight Parents Is the "Best Scenario" for Children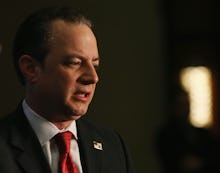 Just a day before Monday's kickoff of the Republican National Convention, GOP Chairman Reince Priebus told NBC anchor Chuck Todd in an interview that he believes children are better off with a mother and a father.
"The best scenario for kids is a loving mom and dad," Priebus said, reiterating what has been a dearly held position of conservatives for decades. 
"However, it doesn't mean at all that single parents, that same-sex parents, that any parent in America can't love a child, can't raise a child, and that child can't be successful and loved," Priebus added. "It doesn't mean that. It just means what the facts say."
But according to Politifact, the "facts" Priebus refers to simply don't exist.
Researchers at Columbia Law School studied 78 articles investigating this question and found that the "overwhelming scholarly consensus" is that having same-sex parents in no one way harms children — they're no worse off than children with straight parents.
Politifact reported that the studies looked closely at questions of "adolescent well-being, child physical and emotional health, family functioning and the effect of homophobic stigmatization." 
Of the 78 studies, only four showed any negative impacts on these factors, and Columbia researchers determined there are other possible causes that could have skewed the results in those cases. For one, the majority of children surveyed in those studies were members of households parented by straight parents, until one of them came out, potentially causing "family breakup or turmoil," reported Politifact. Often, said University of California Los Angeles LGBT demography expert Gary Gates, family stability gets conflated with family composition.
Priebus' back-tracking on the issue, adding that he didn't mean a child of any family arrangement can't be "successful and loved" is indicative of the GOP's attempt to evolve on the issue of gay marriage and LGBTQ rights per the party's "autopsy report" from 2013. 
Following Mitt Romney's loss to President Obama, Republicans determined candidates needed to "campaign among Hispanic, black, Asian and gay Americans and demonstrate [they] care about them, too."
However, while some gay voters have called presumptive Republican nominee Donald Trump the "most pro-gay Republican nominee ever," others are wary of his vice presidential pick, Indiana Gov. Mike Pence. In the past, Pence has voted against same-sex marriage and civil unions, and advocated for conversion therapy. 
Priebus' comments, then, likely do little to reassure LGBTQ voters.
"Love, respect, dignity — but traditional values," Priebus told NBC. "And that's what our party is about."
Read more: