Donald Trump's Ghostwriter Tony Schwartz Says Trump Presidency May End Society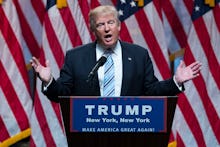 The man who ghost-wrote Donald Trump's much-touted memoir, The Art of the Deal, has a warning for America — and he isn't pulling any punches.
"I genuinely believe that if Trump wins and gets the nuclear codes there is an excellent possibility it will lead to the end of civilization," Tony Schwartz, the man who in the 1980s helped Trump write the book that Trump has touted on the campaign trail, told the New Yorker in a tell-all piece published Monday — the day of the Republican National Convention, where Trump is slated to receive his party's nomination for president.
Schwartz told the New Yorker he feels "a deep sense of remorse that I contributed to presenting Trump in a way that brought him wider attention and made him more appealing than he is."
The ghost-writer had almost nothing nice to say in the piece about Trump — both as a person and as a businessman.
Schwartz described Trump as "a kindergartner who can't sit still in a classroom."
He questioned Trump's intellect, saying "I seriously doubt that Trump has ever read a book straight through in his adult life."
Schwartz called Trump a liar who "had a complete lack of conscience" about lying.
And he said if he could re-name The Art of the Deal, he'd title it The Sociopath.
On Good Morning America Monday morning, Schwartz continued voicing his remorse about helping write the book that Trump has used as a selling point throughout his presidential bid.
"My 2-year-old grandson has a longer attention span than Donald Trump," Schwartz said.
Trump, in an interview with the New Yorker, denied that Schwartz co-wrote the book.
"I wrote the book. I wrote the book. It was my book. And it was a No. 1 best-seller, and one of the best-selling business books of all time. Some say it was the best-selling business book ever."
And he said Schwartz spoke for the New Yorker's tell-all for "publicity."
"That's great disloyalty, because I made Tony rich," Trump told the magazine of Schwartz's comments. "He owes a lot to me. I helped him when he didn't have two cents in his pocket. It's great disloyalty. I guess he thinks it's good for him — but he'll find out it's not good for him."
Read more: