'Wonder Woman' Movie: Gal Gadot Explains Why the Superhero Film Needed a Female Director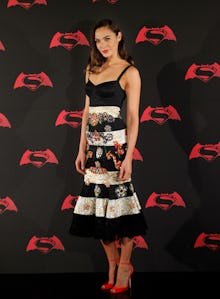 We're just less than year away from DC Comics' female-driven superhero venture, Wonder Woman, the first solo film about the heroine in the character's 75-year history. It's about time, too, considering the plethora of Batman and Superman films Hollywood has doled out — including the most recent entry, Batman v Superman: Dawn of Justice, which was panned by critics. 
But DC Comics is, at the very least, moving in the right direction. Gal Gadot, who made her first big screen appearance as Wonder Woman in Dawn of Justice, believes the solo film will be successful because it's being directed by a woman — namely, director Patty Jenkins.  
"It's a story about a girl becoming a woman," Gadot said in an interview with Entertainment Weekly. "I think only a woman, who has been a girl, can be able to tell the story in the right way." 
Gadot continued:
All my life I've been working with male directors which I've really enjoyed. And I'm lucky in that I've worked with men who have a lot of respect for women. But working with a woman is a different experience. It feels like the communication is different. We talk about emotions. With Patty, it's a thing now, we communicate with our eyes. She doesn't need to say a thing. If I'm hurt, she feels the pain. It's a whole different connection that I have with her. She's also brilliant, she's bright, she's fierce, she's sharp. She knows exactly what she wants Wonder Woman to be.
Entertainment Weekly has the rest of Gadot's interview and set photos from the film. Wonder Woman is currently slated to hit theaters June 2, 2017.
Read more: