Drake Thanks His Mom For Funding His "Music and Wardrobe" in Revealing 2006 Letter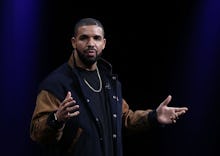 Oh, how times can change in just the blink of an eye. For Canadian hitmaker Drake, becoming a rap icon took less than 10 years. It seems he sorely needed those hits though, as a 2006 letter penned by the "One Dance" artist reveals, he had debts to pay.
Sunday, Drake uploaded a photo of a letter to Instagram he sent to his mom slash "biz partner" just before achieving his unparalleled success in the music industry. He thanks her for supporting him throughout his come up, and discusses a bit of business — i.e. his eBay expenditures.
"Dear mom, I have cancelled the WireImage subscription due to my eBay charges coming to more than I had planned for," Drake began. "Please know that you will [be] reimbursed fully through several methods and or means of payment."
"Thanks for temporarily funding my music and wardrobe," he continued, signing off: "Your biz partner." The sign off includes Drake's true initials, A.D.G., and under that, a second signature, "Jimmy," an ode to the character Drake played during his tenure on Degrassi. 
Drake was making a career-defining pivot in 2006 from TV stardom to the rap game. It's the year he released his debut mixtape Room for Improvement. But it seems his finances weren't quite reflective of the luxury lifestyle he dreamed of on the mixtape's tracks like "Money" and "City is Mine." "eBay was the addiction back in 2006," Drake captioned the photo. "Def come a long way and it's safe to say I most likely settled this debt." The artist ended his post with the hashtags #NothingWithoutMyMom and #IProbablyBoughtSomeEvisuJeans.
It's inspiring to see how much can change within a decade. It's testament to Drake's talent that he could climb so high, up to being peers with the King of Pop himself, in just to decade. Not to mention, his style game has certainly upgraded from Evisu jeans — certainly a plus.
Read more: