Moncler Faces Major Backlash Online for a New Collection Inspired by Racist Dolls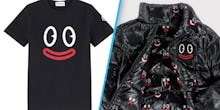 Sometimes, one single Google search can go a long way. 
For its latest collection of overpriced puffy jackets and T-shirts, Moncler, the brand famously favored by Drake, printed a number of garments with a stylized version of a smiley face, with wide, white-rimmed eyes and a large red grin. 
When the collection, a collaboration with the artist duo FriendsWithYou, debuted online last week — the internet was not having it.
Almost immediately upon seeing the design, people on Twitter started to draw connections between Moncler's new emblem and racist dolls, known as golliwogs, as well as racist depictions and imagery of black people from the late 19th century. 
Although the garments themselves sold out on Moncler's website (and no longer appear on it at all), that didn't stop the brand from getting scolded online from people who couldn't unsee the correlation between its new design and these dolls that are closely linked to minstrel shows and blackface.
In response to the controversy, Moncler was forced to make a statement on the collection, stating that it didn't think it had anything to do with these sorts of dolls at all. To the company, the design was actually supposed to look like a penguin character created by FriendsWithYou. 
"We are so sorry for any offense caused by the use of the stylized face of the penguin character 'Malfi' on some of the items of clothing," Moncler wrote on Twitter. "Malfi the Penguin is one of a cast of characters created by artist duo FriendsWithYou whose message is first and foremost one of global friendship." 
However, to many, the idea that this face only has to do with a fictional penguin character was a bit of a stretch, especially since, as a few Twitter users pointed out, the characters have been animated to be twerking. 
But there actually could be purpose behind that decision as well. As High Snobiety wrote as this controversy was unfolding, FriendsWithYou seeks "to redesign spirituality, rituals and religious acts for modern day usage and connectivity," so its use of this design could very well be about reclaiming the racist imagery. Although, that doesn't change how bizarre it is for a jacket to be covered with a face reminiscent of blackface.
Mic has reached out to Moncler for comment. 
Read more: