Donald Trump Calls for "Extreme Vetting" of People From Places With Terrorist History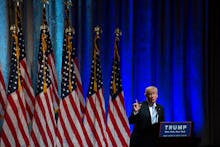 The parameters of Donald Trump's "Muslim ban" have shifted more than the combovers in his possibly $60,000 weave. 
His interview Sunday on 60 Minutes was no different — and at this point, who knows what his "plan" will look like tomorrow?
The newest version of Trump's proposal to block all Muslim immigrants from entering the United States will rely on "extreme vetting" of people who come from "territories" with a history of terrorism, according to NBC News.
"Call it whatever you want," he reportedly told 60 Minutes, when asked if he'd adjusted the policy at all. "Change territories, but there are territories and terror states and terror nations that we're not going to allow the people to come into our country."
So, instead of banning all Muslims from the U.S. outright, Trump would simply ban people who come from certain countries.
This echoes a proposal the presumptive Republican nominee floated after the Pulse nightclub attack in Orlando, Florida, in June — one that notably avoided making the ban explicitly directed at Muslims.
It remains unclear what measures this plan would actually include, besides vague and perhaps excessive use of the term "vetting":
"We're going to have a thing called 'extreme vetting' ... there's going to be extreme vetting." — Donald Trump
"We're going to have a thing called 'extreme vetting,'" Trump told 60 Minutes Sunday. "And if people want to come in, there's going to be extreme vetting. We're going to have extreme vetting. They're going to come in and we're going to know where they came from and who they are."
Either way, it's clear that Trump is trying to "pivot" away from the extreme and outspoken bigotry that's defined his campaign thus far to appeal to a broader voting bloc.
Not to mention his immigration plan has precedent in the United States.
As troubling as it is, the U.S. has a long history of blocking certain people from immigrating here on the basis of their nationality. The Chinese Exclusion Act of 1882 banned all Chinese laborers from entering the country. In 1979, during the Iran hostage crisis, President Jimmy Carter placed a ban on Iranian nationals entering the U.S.
Sad!
Read more: