A Pakistani Woman Was Murdered for Speaking Out Online About Female Sexuality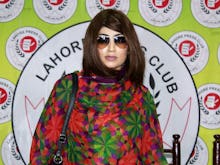 One of Pakistan's most outspoken feminist celebrities, 25-year-old social media star Qandeel Baloch, was murdered Friday by her brother Waseem in what appears to be a religiously motivated "honor killing."
Baloch originally started her media career as a contestant for the reality show Pakistan Idol. She was known for her unapologetic sexuality, from her sexy selfies on Instagram to her flirty videos inviting Indian cricketer Virat Kohli to date her. Just weeks ago, Baloch was bombarded by trolls on social media for her seductive dance in a music video titled "Ban," where she gyrated along to the words "your hip-shaking will be banned." 
Baloch became an emblem of desire in a country governed by Islamic religious law. Yet Bachol's statements about religious hypocrisy in Pakistan were widely considered her most controversial moves.
Weeks before her death, Baloch posted videos of herself goofing off and chatting with Mufti Abdul Qavi, who was a Pakistani religious authority before the scandal cost him his job. Baloch told the Express Tribune the Islamic cleric made a pass at her and she wasn't sorry she "unveiled" him in the public eye. 
"I will continue to unveil this hypocrite face of religious clerics who are defaming our religion and country," Baloch told the Express Tribune.
This was the last straw for Baloch's brother, who said in a confession video he started plotting to kill her after "her scandal with the mufti."  
Baloch wasn't just a sex symbol. She was also notorious for expressing her strong opinions about women's rights. One of her final social media posts before her death stated that she hoped to be an "inspiration to those ladies who are treated badly and dominated by society." 
In another post, following her scandal with the Islamic cleric, Baloch wrote on Facebook: "As a women we must stand up for ourselves. As a women we must stand up for each other." 
She was also famously candid about how misogyny impacted her personal life. As a teenager, she was reportedly forced to marry an abusive man, whom she later left even though it meant losing custody of their son. In response to public accusations of spousal abuse, the ex-husband called her a "femme fatale" with "insincere motives," Dunya News reported. 
Baloch's murder was reportedly an honor killing, a type of crime typically perpetrated against women who flout gender roles and sexual stigmas. According to the Human Rights Commission of Pakistan, more than 15,220 people nationwide were attacked in "honor crimes" over the past two years. 
"She was bringing dishonor to our family," Baloch's brother Waseem reportedly told the police of his decision to kill his sister, according to CNN. "Girls are born to stay home and follow traditions. My sister never did that."
Many social media users responded to news of Baloch's death with the same brand of slut shaming.
Although sometimes described as the "Kim Kardashian of Pakistan," Baloch represented much more than a reality TV icon to young feminists across the Islamic world. Now women all over the world are tweeting about her tragic death using the hashtag, #QandeelBaloch. 
Read more: