RNC 2016 Day 1: Speakers, Schedule and What to Expect From Donald Trump Campaign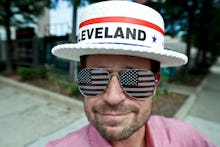 If this time last year, someone had said billionaire businessman Donald Trump would be the last man standing come the Republican National Convention, they probably would've been met with laughter. But on Monday, what was once a joke to many and a distant dream for Trump will become a reality at the Quicken Loans Area in Cleveland, Ohio.
Let the games begin.
News channels will start broadcasting from the convention around 1 p.m. Eastern, though the main speakers won't take the stage until around 8 p.m. 
Monday's speakers will include Duck Dynasty star Willie Robertson, actor and producer Scott Baio, Trump's wife and Republican politicians like Iowa Sen. Joni Ernst, Montana Rep. Ryan Zinke and former Texas Gov. Rick Perry, according to NJ.com.
Also on the speakers list are two Marine Corps veterans who served in Benghazi, the mother of a Benghazi victim and relatives of multiple victims of crimes committed by undocumented immigrants. 
Notice a pattern? The theme of RNC day one is "Make America Safe Again."
Though Trump isn't expected to deliver any remarks tonight, through its speakers, the Trump campaign is positioned to double down on its messages indicting Democratic nominee Hillary Clinton for the 2012 Benghazi attacks and promising to secure United States borders. 
Earlier this month Trump made controversial remarks regarding the threat of terrorism to the U.S., saying of late Iraqi dictator Saddam Hussein, "He was a bad guy, a really bad guy. But you know what he did well? He killed terrorists." And, of course, there's his enduring calls to "build a wall" along the U.S.-Mexico border and to ban Muslims from entering the country (or at least to create a database of them). 
The endgame of the four-day convention is to make Trump more relatable to voters, according to his campaign chairman Paul Manafort. "We will not have the traditional wall-to-wall speakers from Washington," NJ.com reported him as telling the press on Sunday. 
"The goal for the Trump campaign for this convention is to help the American people understand more about Donald Trump the man, not just the candidate on the campaign trail." 
Read more: