Selena Gomez's Response to Tweet About #BlackLivesMatter Gets Roasted on Twitter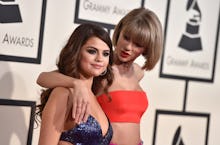 Selena Gomez went on Twitter to defend her best friend Taylor Swift after Kim Kardashian West leaked video footage on Snapchat of a phone call Kanye West had with Swift.
In Kardashian West's video, you can hear Swift agreeing to the lyrics in question of West's infamous track "Famous" on The Life of Pablo. Then, Twitter users convened an epic #KimExposedTaylorParty. 
But Swift's BFF tried to crash the party by saying people don't use their voice to stand up for something that matters. 
Twitter users were quick to clap back at the actress' response.
When a user asked Gomez why she chose to be silent on police brutality and #BlackLivesMatter, she responded hastily by referring to the movement as just a hashtag that takes a side. The tweet is now deleted, but here is a screenshot:
In contrast, Kardashian West has never been shy about speaking out about injustice. In the last few years, she's written an op-ed for Time on the 100th anniversary of the Armenian genocide, criticized a Wall Street Journal ad, spoken out against gun violence and even wrote a post on her website in support of #BlackLivesMatter.
That can't be said about Swift or Gomez, as users pointed out.
Users also responded to her dismissive remarks about the Black Lives Matter movement and called her out for not practicing what she preaches:
Read More: