Taylor Swift Was Owned by Kim Kardashian West — and Internet Misogynists Are Celebrating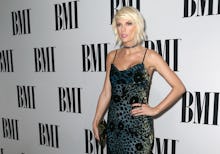 Millions of people love Taylor Swift. But there are also people who really hate her. Some appear to hate her at least in part because of her gender, if the offensive, misogynistic language aimed at Swift in the past 24 hours has been any indication. 
It all started in February, when Kanye West released "Famous," in which he boasted that he could probably have sex with Swift because he "made that bitch famous." Swift denied having approved the lyric, saying through a representative that she "cautioned [West] about releasing a song with such a strong misogynistic message." A June 2016 GQ interview with West's wife, Kim Kardashian West, indicated otherwise, with Kardashian West hinting that Swift had approved the song beforehand. 
On Sunday night, Kardashian West showed the world her receipts, posting footage of a phone call between Kanye West and Swift to Snapchat. In the footage, Swift seems to approve some — but not all — of West's lyrics, indicating that she had lied about not knowing about the song beforehand:
"And you know, if people ask me about it, I think it would be great for me to be like, 'Look, he called me and told me about the line before it came out. Like, joke's on you guys, we're fine.
Immediately, the anti-Swift backlash began. Social media started throwing a party with the hashtags #KimExposedTaylorParty and #TaylorSwiftIsOverParty. It wasn't long before Swift responded in a tweet, reiterating that she had never approved Kanye calling her a "bitch" in the song. 
It's important to note that while the internet has seized on Kardashian West's footage as proof that Swift lied about not approving West's lyrics, it's not entirely clear that that's the case. There are gaps in the video Kardashian West posted, which is obviously edited to support a certain narrative, and we never hear Swift agree to being called "that bitch." 
At this point, however, the feud between Swift and Kimye is only peripherally about what West said about her in one of his songs. It's now about the arrival of a moment many have apparently been long awaiting: the moment when everyone who detests Swift can start dancing on her grave. 
The problem is, much of the language being used to describe Swift is shockingly misogynistic. For instance, while the word "bitch" may have been absent from Swift's call with West, it's certainly not absent from the conversation about Swift on Twitter.
Commenters on the subreddit r/PussyPassDenied are similarly thrilled that that bitch finally got what was coming to her, with one user writing that Swift's downfall has given him a "justice boner." 
The backlash around Swift has been building up for quite some time. In recent weeks, Swift has come under fire for her personal life in particular, such as her very public relationship with actor Tom Hiddleston soon after she broke up with ex Calvin Harris. Hiddleston and Swift's whirlwind courtship prompted a shitstorm of slut-shaming, rude hashtags and one Twitter user's bizarre comparison of her vagina to an overstuffed ham sandwich.
While it's unfair to assume that everyone who's joined the Taylor Swift backlash has done so for sexist reasons. Some, for instance, have pointed out that Swift's reaction plays into a racial narrative wherein white women paint black men as the guilty party to cover their own tracks. 
The language used to malign her is jarring nonetheless — particularly when you consider that the driving force behind the feud was West's use of misogynistic language to describe her in the first place. When people use clearly gendered terms like "cunt," "whore" and "bitch" to describe Swift, it's not just an instance of a celebrity being unlikable — clearly, there's a deeper discomfort with Swift at play. 
As Bridie Jabou wrote in an op-ed for the Guardian, the #TaylorSwiftIsOverParty isn't even about the Kimye/Taylor feud anymore. It's about "suspicion of successful women, resentment of unapologetic women, a need for women to know their place." That's particularly true in light of West's boast in "Famous" that if it weren't for him, no one would even know who Taylor Swift was. While that's objectively untrue (she sold 3.8 million copies of her 2008 album Fearless), the fact that he positioned himself as responsible for her career makes this dispute, as Cassie Werber at Quartz put it, "a public argument about men taking credit for women's success."
That's not to say that Swift doesn't have some qualities that justifiably rankle the internet: she does. She's been rightfully criticized for her white feminism and her uber-curated friend group, as well as her general demeanor of showy perfectionism. 
"Swift writes catchy songs about some ex-boyfriends, appears surprised when she wins awards, complains about how she has been represented in a Kanye West song, and is never photographed with a hair out of place," Jabour wrote. "Those are her crimes. And they are apparently unforgivable."
Yes, it's OK for us to roll our eyes at Swift's professionally photographed 4th of July Instagram posts, or her sleek and shiny group of model friends. But does that necessarily mean she deserves to be dragged to death on social media? Kardashian West's posts are distracting us from the conversation we need to be having: Why do men get to claim credit for women's success, and why do they get called bitches when they push back? 
Read more: