Joe Budden's "Afraid" Is His Latest Diss Track Aimed at Shaking the "Incumbent" Drake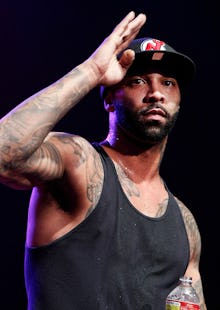 How soon after Joe Budden wakes up does his mind begin working over the various barbs he can throw at Drake? Because it seems like he's got vaults filled with material. 
Continuing his quest to reignite Drake's competitive spirit, Saturday, Budden released his third diss track aimed at the 6 God, "Afraid," via SoundCloud. It accuses the rapper of being "a fucking incumbent" and a "puppet" for becoming a "poster child now for all that you had a wall against."
Budden also mocks Drake for his Aaliyah obsession and takes not-so-subtle shots at Drake's What a Time to Be Alive partner Future.
This latest diss arrived shortly after Drake appeared on French Montana's "No Shopping," on which Drake takes more than a few shots at Budden. After referencing Budden's "Pump It Up" Drake raps: "I'm not a one hit wonder, they know all my stuff/ You let me turn into the nigga that you almost was."
But on Budden's response, he recognizes Drake's hit making abilities. The bulk of his track is merely aimed at getting Drake to reach higher. "Thinking you misunderstood my hood, this isn't Meek nigga," Budden raps, referencing Drake's last major feud, in which he completely dismantled his rival Meek Mill. "This ain't a standard that you couldn't meet."
While Drake is still echelons above Budden and has literally nothing to prove — Views is sitting pretty at No. 1 on both the singles and album charts — it's getting harder and harder for Drake to ignore these shots at his throne. The whole culture is watching.
Listen to Budden's first two diss tracks "Making a Murderer (Part 1)" and "Wake" below.
Read more: