RNC 2016 Convention: Livestream, Channel, Start Time and How to Watch Online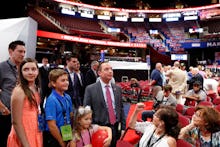 After what felt like a bajillion years of primaries, the party conventions — the official start to the General Election — are finally here. The Republican National Convention officially kicks off in Cleveland on Monday, July 18 at the city's Quicken Loans Arena and will last until July 21. 
The convention will feature speeches and appearances from party leaders, like Texas Gov. Rick Perry, Florida Sen. Marco Rubio, former Speaker of the House Newt Gingrich and his wife, Callista, and some wildcards, like '80s TV star Scott Baio. 
Fans and critics alike can follow the action in Cleveland by watching the livestream of CBSN coverage or by checking the RNC's official YouTube channel. For those watching on TV, C-SPAN and PBS will cover the convention from beginning to end. 
And for superfans, there's also an official RNC app available for iOS and Android that will include 360-degree views of the convention, maps of the area and "gavel to gavel live streaming of the Convention's proceedings." Enjoy, you crazy kids.
Read more: