Malcolm Gladwell Says Colleges With Good Food Don't Value Low-Income Students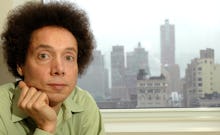 Bowdoin College, a small liberal arts school in Maine, offers outstanding food that was named the best college food in the country by the Princeton Review in 2015. But Malcolm Gladwell argued in his podcast series, Revisionist History, that the award-winning fare could prevent Bowdoin from enrolling more low-income students.
"If you're looking at liberal arts colleges, don't go to Bowdoin. Don't let your kids go to Bowdoin. Don't let your friends go to Bowdoin. Don't give money to Bowdoin or any other school that serves amazing food in its dining hall," the bestselling author said during the podcast.
Gladwell's argument: Bowdoin College and Vassar College are both prestigious liberal arts colleges with competitive admissions. According to Gladwell, Bowdoin has highly acclaimed food services (lobster bakes, hello) but enrolls a lower share of low-income students compared to Vassar, which has more lackluster food offerings.
In the description to the Revisionist History episode, Gladwell noted that Bowdoin gave Pell Grants to 278 students (14% of the student body) in 2014-2015, while Vassar gave Pell Grants to 610 students (23% of the student body). Gladwell also noted that Vassar has a higher financial aid budget. 
In an online statement, Bowdoin called Gladwell's podcast "manipulative" and "disingenuous," and said they didn't interview financial aid officials. The statement noted the college is "need-blind," meaning it does not consider the financial situation of a student's family before accepting a student. Bowdoin will meet the need of any qualifying student with grants, it wrote. U.S. News and World Report noted that 62 educational institutions claim to meet the full financial need of qualifying students. Vassar College is also need-blind. 
Bowdoin grads and others condemned Gladwell's argument on Twitter. Food fight, commence! 
Bowdoin alumnus DeRay Mckesson, a notable Black Lives Matter activist, called the podcast's reporting a "sham" in a tweet.  
Other alumni, like Nicole Wetsman, said the podcast lacked context. 
Gladwell seemingly mocked the internet's outrage. In a tweet, he wrote his podcast should have contained a "trigger warning for Bowdoin grads." Many Twitter users fired back at him. 
Sarah Drumm — a current student who is the managing editor for the Bowdoin Orient, Bowdoin's student-run newspaper — said Gladwell could have targeted Middlebury College instead.
According to a tweet from Jacob Smith, a producer from Revisionist History, Gladwell's team chose Bowdoin because of its high-ranking campus food.
But as Drumm pointed out, Gladwell himself came down on the relativity of college rankings in a 2011 New Yorker article titled "The Order of Things." 
Is Gladwell onto something by linking college luxuries like dining quality with enrollment of low-income students? By his logic, perhaps expensive college gyms featuring climbing walls or pools with waterfalls might also be linked to a college's enrollment of low-income students. 
Either way, maybe he should hire some Bowdoin grads to help report his next episode. 
Read more: