McDonald's Just Made It Very Hard to Watch Porn at Its Restaurants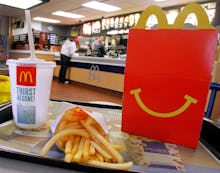 McDonald's meals are about to get a little cleaner. The burger chain is filtering out porn access from its public Wi-Fi, Next Web reported. Yes, it turns out enough people were eating their McNuggets while feasting their eyes on copulation for the company to take notice. 
The decision to shut down access to this more X-rated kind of happy meal comes after years of pressure from Enough Is Enough, an internet safety activist group, Fortune reported. "Parents can have peace of mind that, when they or their children go to McDonald's, they will have a safer and more friendly Wi-Fi experience, filtered from pornography, from child porn and from potential sexual exploitation and predation," EIE President Donna Rice Hughes told the publication. 
"McDonald's is committed to providing our customers with a safe environment... We are pleased to share that Wi-Fi filtering has been activated in the majority of McDonald's nearly 14,000 restaurants nationwide, improving upon the restaurant experience for our customers," a McDonald's spokesperson said in an email. 
The Wi-Fi filter will be applied to both smartphones and computers, Fortune said. So those with a vested interest will probably have to head to an international location for a burger that comes with, umm, extra special sauce. 
Real stalwarts can use their own data to watch Strokémon (if they haven't drained it all trying to play Pokémon Go — another popular restaurant activity). Parties determined to watch porn while using the Wi-Fi will still probably be able to do so on Instagram — all they need are the right hashtags.
Read more: