Krystal Metcalfe Curses Out Sallie Mae and the Whole Student Loan Struggle in "Sallie"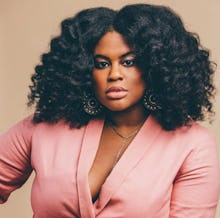 The struggles of paying back student loan debts are more than real — they're crippling. So when 29-year-old singer-songwriter Krystal Metcalfe and her husband couldn't even afford to Netflix and chill, she decided to create to document her blues into an R&B anthem for the millennial generation titled "Sallie."
The song is a raw, emotional ballad critiquing the student loan debt crisis currently impacting roughly 40 million Americans. "This is terrible, we don't even have money to afford our own account and we're grown adults" the singer said in an interview, MarketWatch reported. "It's a reference to all of my student loans, she's [Sallie's] just the most popular."
"Sallie" is a critical ode to Sallie Mae, once one of the largest student loan providers in the U.S. Though the organization now only services private student loans, Metcalfe — as well as countless other college-educated Americans — still feel its effects, and clearly aren't over the pain. 
"I hate you for how you got me out in these streets," Metcalfe croons in her mournful ballad. "And I hate you 'cause I can't seem to get up on my feet. And I hate you for how you jacking a credit. And I hate you 'cause I'm forever indebted."
"The goal is to graduate and get a job but in this economy that's not always possible," Metcalfe said. "The goal is to eventually be a full-time artist, but you have to pay your cost of living and your rent. Paying loans takes over your desires and what your gifts are ... The struggle is real."
Indeed it is. But one of the few things that helps us get through the tough, costly times is music. For that reason, Metcalfe's single "Sallie" is streaming on SoundCloud — don't worry, listening is free.
Read more: