'The Magnificent Seven': New Trailer for Western Remake Is Explosive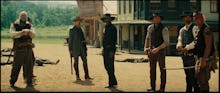 This summer blockbuster season has been filled with aliens, sharks and voyages into space. But that's no reason to forget about another Hollywood staple: Westerns. The Magnificent Seven, the remake of the iconic 1960s Western by John Sturges, released a new trailer Monday featuring its star-studded cast, including Denzel Washington, Chris Pratt, Ethan Hawke, Peter Sarsgaard and Vincent D'Onofrio. 
Oh, and it also featured explosions. 
Clearly, the film won't shortchange its audience on the action front, as each member of the aforementioned seven look primed to kill enemies in increasingly creative ways. At the head of it is Washington as Sam Chisolm, a bounty hunter who is tasked with helping a town against an oppressive villain, Bartholomew Bogue (Sarsgaard).
The seven will certainly be outnumbered if the trailer is any indication, but some ingenuity (and again, explosives) should make it an entertaining ride nonetheless. 
The Magnificent Seven hits theaters Sept. 23. Watch the new trailer below.
Read more: