Clinton Super PAC Welcomes Donald Trump to RNC With Ads Tying Him to KKK, Kim Jong Un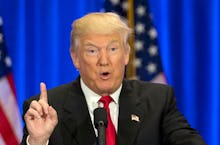 Hillary Clinton's super PAC has a welcome gift for Donald Trump when he arrives in Cleveland for the Republican National Convention: A six-figure digital ad campaign that ties the presumptive Republican nominee to dictatorial leaders and the Ku Klux Klan.
The ad buy, provided first to Mic, has images of leaders such as former KKK leader David Duke, North Korean Supreme Leader Kim Jong Un, and Russian President Vladimir Putin — three men who have either praised Trump or vice versa during the campaign.
The ads will be visible for people using Facebook and other websites at major RNC sites, including the Quicken Loans Arena — where the convention is being held — the Cleveland airport and hotels in the area where delegates, party officials and reporters are staying.
Duke, a white nationalist, has praised Trump, saying Trump has "made it OK" for white people to express their racial points of view, Politico reported in the winter.
North Korean media — run by dictator Kim Jong Un — endorsed Trump in May, calling him a "wise politician" and "a prescient presidential candidate," according to Reuters.
And Putin — an aggressor toward America and the west — has complimented Trump, saying he's "a brighter person, talented without a doubt," CNN reported in April.
The RNC begins in Cleveland Monday and runs through Thursday.
Read more: