The 2016 Republican National Convention Shows the Big Irony of Donald Trump's Campaign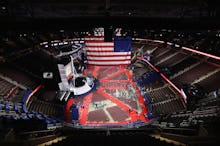 CLEVELAND, Ohio — Paul Manafort faced an impossible task.
Appearing listless and sleep-deprived, Donald Trump's campaign chairman variously insisted at a press briefing Monday morning that the Republican Party "is getting unified," already "is unified" and that the unification process, still underway, is at least "accelerating" thanks to the presumptive GOP nominee's selection of Indiana Gov. Mike Pence, a creature of the conservative establishment, as his vice presidential running mate.
With the party either already united or getting there, the Republican National Convention kicking off Monday afternoon would mark a new phase in which Trump seeks to broaden his appeal to a diverse electorate, Manafort said.
"Our goal all week is to present a picture of Donald Trump that is broader than just the campaign image that people have developed through the primary season," he said.
Even as Trump looks to embark on a new phase of his White House bid, the intraparty fissures exposed by his campaign remain — as Manafort himself indicated on MSNBC's Morning Joe on Monday, slamming Ohio Gov. John Kasich as "embarrassing" for his decision to skip this year's festivities. The campaign chairman doubled down on those remarks during his press briefing later in the morning.
Besides Kasich — whose sunny message during his own GOP primary bid contrasted sharply with Trump's ominous warnings of a country "going to hell" — other notable absences from this year's convention include 2008 nominee John McCain, 2012 nominee Mitt Romney and vanquished Trump rival Jeb Bush, as well as Bush's father and brother, the only two living Republican ex-presidents.
It would have been nice to have the Bushes in the Buckeye State, Manafort allowed, but the Trump campaign didn't much mind their absence.
"They're part of the past," he said.
The central irony: The GOP's disunity persists against the backdrop of a nation riven by mounting racial tensions and confronting the looming threat of the Islamic State terrorist group — complicating Trump's effort to pitch himself as a president who can unite a country that seems hopelessly divided.
With 6 in 10 voters calling Trump unqualified for the nation's highest office in a recent ABC News-Washington Post poll, his campaign sees the convention as a prime opportunity to make Trump a more plausible president amid tumultuous times.
The theme of the convention's opening night is "Make America Safe Again" — a message that may prove particularly resonant after the recent killings of police officers in Dallas, Texas, and Baton Rouge, Louisiana, and the terror attack in Nice, France. Besides Trump's wife, Melania, featured speakers will include Rudy Giuliani, whose mayoralty of New York City stressed a "law-and-order" message similar to the one Trump now espouses; Sen. Joni Ernst, an Iowa National Guard veteran; Rep. Michael McCaul of Texas, the chairman of the House Homeland Security Committee; and John Tiegen, a Marine Corps veteran of the 2012 Benghazi attack.
Responding to the killings of three police officers in Baton Rouge on Sunday, Trump underscored the centrality of his safety-and-security message, depicting the country as a "divided crime scene" and increasingly vulnerable to foreign adversaries.
Will it work? If social division and national insecurity are the maladies of modern American life, it's unclear that voters will see Trump as the cure.
His incendiary rhetoric has alienated much of the electorate, with recent polls showing Trump winning 0% of the black vote in Ohio and Pennsylvania and only 14% of the Hispanic vote nationally — 13 percentage points worse than Mitt Romney performed with those voters in 2012, NBC News noted. Even if Trump's popularity with the white working class helps him wrest Rust Belt states like Ohio and Pennsylvania from the Democrats, his toxic image among racial and ethnic minorities could deliver states like Florida, Virginia, North Carolina and Colorado to presumptive Democratic nominee Hillary Clinton — all but assuring her of victory.
Then there are Trump's woes within his own party. Even some of the VIPs slated to speak at the convention here highlight the challenges Trump faces inside the GOP.
House Speaker Paul Ryan has endorsed Trump's candidacy, but has been a persistent critic of Trump's rhetoric and campaign tactics, while Sen. Ted Cruz of Texas still won't commit to endorsing Trump, his former primary rival. Ryan's and Cruz's speeches will be as closely watched for what they say about the party's future and their possible 2020 presidential campaigns as they do about the man slated to accept the GOP nomination on Thursday night.
For Trump, the path from his acceptance speech to the White House is likely to be a steep one. But polls show it's not impossible. Set to face a Democratic opponent with her own image problems, Trump may yet overcome the odds, and national polls show him trailing Clinton by only about 3 percentage points.
And while Trump remains persona non grata to many Republicans, Clinton is almost universally loathed by members of the GOP, and her policy record and integrity will come under withering assault here. For Republicans still reluctant to ride the Trump Train, the prospect of a Clinton restoration may prove reason enough to jump aboard.
Read more: