Mike Pence Might Not Know What a Salad Is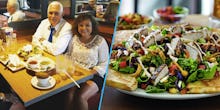 Republican presidential nominee Donald Trump may not spend a lot of campaign money on Mexican food, but his running mate seems to have a penchant for Mexican-inspired fare. 
When Mike Pence's flight from New York City to Indiana was delayed this past weekend, he stopped at a Chili's in New Jersey to refuel, Eater reported. 
Pence broadcast his restaurant choice, tweeting, "Busy weekend in NY! Enjoying a quick dinner with the family at @Chilis. Looking forward to getting back to Indiana." Pictured in front of him is Chili's Quesadilla Explosion Salad. 
While something light and green — like a salad — is often a good choice in between travel, Pence's pick is no ordinary salad. 
The Quesadilla Explosion Salad packs a whopping 1,430 calories, and appears to be a just a cheesy quesadilla cradling some lettuce. It happens to be worse nutritionally than a Big Mac with fries and Coca-Cola, Business Insider noted. In fact, it's one of the most unhealthy chain restaurant salads around, Daily Burn reported. 
No, there's nothing wrong with getting a quesadilla at Chili's. But why not just make your intentions known instead of burying them under some romaine?
What's scarier than the calories in that salad and scarier than the fact that Pence went to Chili's instead of one of the thousands of delicious eateries in the New York City area? How about how his daughter isn't reflected in the mirror? 
Vampires for prez? 
Read more: