RNC 2016 Day 1: How and Where to Watch First Night of GOP Convention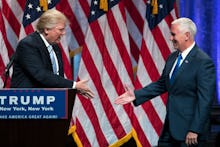 Millions of Americans descending on Cleveland's Quicken Loans Arena for the Republican National Convention could make already-nervous Ohio police officers have syncopated ulcers. Instead, you can just watch the four-day convention from the comfort of home. Here's how.
The RNC officially begins at 1 p.m. Eastern, like a (terrifying) music festival, but Monday's primetime talks — from Melania Trump, former Texas Gov. Rick Perry, actor Scott Baio and former New York City Mayor Rudy Giuliani, among others — don't kick off until 8 p.m. Eastern, according to NJ.com.
The 2016 RNC has an official app, aptly called RNC 2016: Official App, that allows users to check the convention's schedule, watch live video from 360-degree cameras and watch recorded videos.
For households that haven't switched to a fully Netflix-Hulu-Amazon Prime way of televised existence, traditional television networks — such as CNN, Fox News, C-SPAN, NBC News, MSNBC, ABC, CBS — will have special coverage of the event.
Most of these networks will also have digital streaming options. Fox News will stream live on its website and mobile app; CNN goes a little more modern with coverage on Snapchat and Facebook Live; NBC News and MSNBC has an app to watch streaming coverage; and C-SPAN will upload coverage to its website and social media.
Of course, there are a boatload of people speaking at this thing, and also like a music festival, some of those people might not matter to you. The headliners on the GOP convention program are: first-lady-hopeful Melania Trump, retired Army Lt. Gen. Michael Flynn, U.S. Sen. Joni Ernst (R-Iowa), veterans advocate Jason Beardsley and U.S. Rep. Ryan Zinke (R-Montana).
Read more: