On Nelson Mandela's Birthday, Here Are Some Particularly Timely Quotes to Remember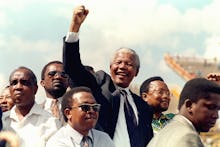 On Monday, people from all around the world are taking part in Nelson Mandela International Day — or Mandela Day.
Rolihlahla "Nelson" Mandela, the first black South African president, is mostly known for playing a central role in ending apartheid in South Africa. Mandela, however, has also been a key figure in speaking out against world issues ranging from poverty to ethnic conflict to HIV awareness.
The day of commemoration for Mandela was originally implemented on July 18, 2009 — his birthday — by the UN General Assembly. Mandela, who died on Dec. 5, 2013, would've been 98 years old.  
The tribute to Mandela and his legacy was created in an effort to inspire the upcoming generation to take on leadership and combat the social injustices that plague the current global political climate. On Mandela Day, people from all walks of life are suggested to follow three tenets of Mandela's philosophy: free yourself, free others and serve every day.
In honor of Mandela Day, here are 13 powerful and inspiring quotes that will motivate you to follow in the footsteps of the revolutionary icon.
You can find more information and resources about Mandela Day here.
"The color of my skin is beautiful, like the black soil of Mother Africa."
"There is no such thing as part freedom."
"I learned that courage was not the absence of fear, but the triumph over it. The brave man is not he who does not feel afraid, but he who conquers that fear."
"When the history of our times is written, will we be remembered as the generation that turned our backs in a moment of global crisis or will it be recorded that we did the right thing?"
"To be an African in South Africa means that one is politicized from the moment of one's birth, whether one acknowledges it or not."
"No one is born hating another person because of the color of his skin, or his background, or his religion. People must learn to hate, and if they can learn to hate, they can be taught to love, for love comes more naturally to the human heart than its opposite."
"If you talk to a man in a language he understands, that goes to his head. If you talk to him in his language, that goes to his heart."
"We know too well that our freedom is incomplete without the freedom of the Palestinians."
"The chains on any one of my people were the chains on all of them. The chains on all of my people were the chains on me."
"When a man is denied the right to live the life he believes in, he has no choice but to become an outlaw."
"I have never cared very much for personal prizes. A person does not become a freedom fighter in the hope of winning awards."
"I was made, by the law, a criminal, not because of what I had done, but because of what I stood for."
Read More: