Hillary Clinton VP Rumors: Clinton Expected to Announce Pick in Florida on Friday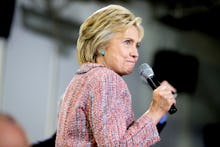 Rumor has it presumptive Democratic presidential nominee Hillary Clinton is about to do something yuge. She'll likely be announcing her running mate on Friday, probably in Florida, according to Politico's Playbook.
Speculation regarding her vice presidential pick has been frenetic for months. On June 15, the Wall Street Journal published the names of nine people who were being vetted by the Clinton campaign. 
They include, first and foremost, Massachusetts Sen. Elizabeth Warren, along with Ohio Sen. Sherrod Brown, Virginia Sen. Tim Kaine, New Jersey Sen. Cory Booker, Housing and Urban Development Secretary Julián Castro, Los Angeles Mayor Eric Garcetti, Labor Secretary Tom Perez and Ohio Reps. Tim Ryan and Xavier Becerra. 
While there is a consensus among certain factions of Democrats that progressive Warren is the only hope of uniting a party deeply divided by the success of socialist, populist candidate Bernie Sanders, the more moderate Kaine appears to be the frontrunner.
Chances are the suspense will be over by Friday. 
Read more: