Best iOS 10 Features: The Clock App's "Bedtime" Feature Actually Changed How I Sleep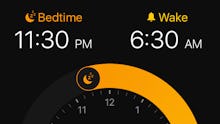 I've been trying out iOS 10, Apple's latest iPhone and iPad operating system, for a few weeks. While it's loaded with a number of flashy new features I know I'll never use — like the hard-to-use heartbeat taps or sketches in Messages — there are a few gems I'm excited for everyone to try. My personal favorite is the Bedtime feature, which comes with the updated Clock app.
Sleep matters. Lost sleep affects your ability to make decisions, control your emotions and solve problems, according to the National Heart, Lung and Blood Institute. Possibly worse: A continued lack of sleep renders your coffee useless.
To that end, Bedtime reimagines the alarm clock. Enter how much sleep you'd like to get, and it brings up this circular chart that lets you visualize your six, seven or eight hours on a 12-hour clock. It'll send you reminders a few minutes before bedtime so you have time to settle in.
One nice feature is the "night mode" theme, which makes it easier to fall asleep in the first place. White text on black is a lot easier on the eyes than the current black-and-white color scheme.
By far, though, the best part of Bedtime is the new set of alarm sounds that come with it. In place of the synth-y 8-bit ringtones that blast us awake every morning is a calm, soothing piano tune called "Early Riser" that actually fades in and gently pulls you awake. There are a few more tunes I haven't tried, but they're all similarly pleasant. The only problem is I can't use them for the regular alarm feature in the Clock app.
Bedtime is one of a few new sleep-friendly features Apple has adopted. If you haven't done so already, turn on Night Shift by sliding up the control panel from the bottom of the home screen and pressing the sun and moon icon. Night Shift will replace the blue light of your screen with an orange light that fades in at sunset. Your eyes will thank you.
What other iOS 10 features do you love so far? What do you hate? Let us know.
Read more: