'Game of Thrones' Season 7 Release Date Is Set — But There's a Disappointing Catch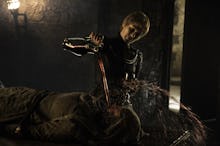 Winter might finally be arriving in Westeros, but fans of HBO's Game of Thrones are going to have to wait until next summer for the show's seventh season. Season seven is now officially slated for a summer 2017 release, which falls in line with the show's already publicized production delays (they literally have to wait for winter to arrive to their set locations). 
Moreover, as showrunners David Benioff and D.B. Weiss previously hinted, it's going to be a shorter season than usual — with seven episodes total. 
"Now that winter has arrived on Game of Thrones, executive producers David Benioff and D.B. Weiss felt that the storylines of the next season would be better served by starting production a little later than usual, when the weather is changing," Casey Bloys, president of HBO programming, said in a statement. "Instead of the show's traditional spring debut, we're moving the debut to summer to accommodate the shooting schedule." 
The news of a shortened season was inevitable, but it's still a tough pill to swallow for the ardent fanbase, who have now officially finished their final season with a 10-episode run. However, if it's any consolation, the show is set up for some epic showdowns in the near future — especially as Daenerys Targaryen and her three dragons quickly approach King's Landing. 
It'll be a longer wait, but in the meantime, you can always listen to Samuel L. Jackson recap the show to lift your spirits. It's a surprisingly flawless fit. 
Read more: