The DNCC Just Showed Paul Ryan What a Diverse Intern Class Looks Like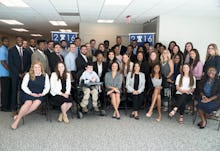 House Speaker Paul Ryan released a remarkably white selfie Sunday with Capitol Hill interns. Now, writer and journalist Colleen Mondor just offered the perfect response.
While Ryan proudly declared, "I think this sets a record for the most number of #CapitolHill interns in a single selfie. #SpeakerSelfie," Mondor contrasted his image later that day with the Democratic National Convention Committee's 2016 interns. 
"You know that pic of the 99% white RNC interns that Paul Ryan sent out?" Mondor wrote. "Get a load of the 2016 DNC interns."
The sundry collection of people includes a mixture of race, gender and physical ability. And Twitter has clearly taken notice. 
"Each of the interns bring an eclectic compilation of backgrounds," a Medium post on the group of young professionals reads, "including Troi Williams, who is an ordained minister and has also scaled Mount Fiji; Jerry Yan, who attended an international middle and high school in Beijing; Anthony Valerio, who is a Division 1 men's ice hockey player; [and] Allen Chen who is a rock climbing instructor."
A 2015 report from the Joint Center for Political and Economic Studies found that while over a third of the U.S. population is comprised of non-whites, only people of color only account for 7.1% of high-level Senate staffers. That means nearly 93% are white, as Ryan's photo aptly suggests. 
But Mondor's tweet gives us reason to think that's changing. 
Read more: