Mason Jar Salad Recipes That'll Make Your Co-Workers Wish They'd Read This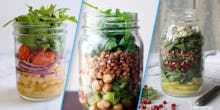 In search of a portable, affordable, healthy and quick-to-make lunch to bring to the office? That's a long list of asks, but a properly crafted mason jar salad will check off every item.
Salad in a jar makes for the perfect work lunch, particularly because it's compact enough to steal you some space in the office fridge. 
You can pretty much craft any type of salad you want in a jar, so long as you follow these basic tips:
Make your salad in reverse.
Don't be too alarmed, but the dressing comes first in a mason jar salad. Pouring it in so it covers the bottoms of the jar ensures the other salad accoutrements won't get soggy. If you're making a couple of salad jars for the week, you might want to keep the dressing on the side and out of the jar entirely.
Layer in hard veggies next.
To protect the rest of your salad from potential sogginess, hard veggies like carrot sticks, thick cucumber slices and celery should sit at the bottom of the jar. These won't soak up all of the dressing's juices, and will create a bit of a barrier for the other salad accessories. 
Bring on the other stuff.
Cheeses, proteins, beans and grains go next.
Lettuce time.
Storing the greens at the top of the jar will keep the as fresh as possible. Feel free to top it all off with nuts and seeds. When you're ready to eat, pour the contents of the jar into a bowl and enjoy.
Now that you know how to put a mason jar salad together, all you need to do is figure out what ingredients to use.
Let the 11 recipes below serve as inspiration:
1. Kale and Arugula Salad With Balsamic Vinaigrette
Get the recipe here.
2. Pomegranate and Pear Salad With Crumbled Blue Cheese
Get the recipe here.
3. Farro Greek-Style Salad With Arugula and Feta Cheese
Get the recipe here.
4. Cajun Shrimp Salad With Guacamole
Get the recipe here.
5. Asian Zoodle Salad With Mandarin Oranges and Crunchy Wonton Strips
Get the recipe here.
6. Lemon Basil Vegetable Pasta Salad
Get the recipe here.
7. Coconut-Lime-Avocado Zucchini Noodle Salad With Quinoa, Peas, Asparagus, Scallions and Feta
Get the recipe here.
8. Marinated White Bean Salad 
Get the recipe here.
9. Spring Cobb Salad With Raspberry Basil Vinaigrette
Get the recipe here.
10. Egg, Spinach and Bacon Salad
Get the recipe here.
11. Butternut Squash and Quinoa Salad With Apple Cider Vinaigrette
Get the recipe here.
Read more: