This Brand Just Took a Major Stand On Desexualizing the Body at Miami Swim Week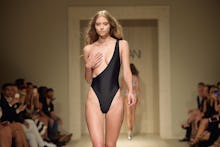 (Editor's note: Images below are NSFW).
Though Miami Swim Week is normally only thought about for beautiful (but uniformly thin) models walking around in bikinis, this year the fashion week is kicking up quite a bit of news. 
Hot off the racially sensitive and culturally aware events of New York Fashion Week: Men's that included a Black Lives Matter demonstration and a fashion show featuring only models with dreadlocks, swim and lingerie brand Hot As Hell got taken to task for a culturally insensitive runway presentation where they sent models down the runway with chopsticks in their hair. Others called the brand out for sexualizing child models. But another brand, luxury swimwear makers Lee + Lani, took a stand on desexualizing the female form.
For the final model of the brand's runway show Friday under the Funkshion Fashion Show tent on South Beach, model Gabi Fulton walked the runway in a suit (which generally comes with another strap) holding and covering her exposed breast. When she got to the front she dropped her hand, effectively becoming the poster child for #FreeTheNipple and finished her walk.
"We're all about empowering women and having women feel sexy in their bodies and we did a one-shouldered one piece and that sort of rocked people's brains a little," Alana "Lani" Ault, co-founder of Lee + Lani said in an interview. 
"For us it's all about desexualizing the body and giving that power back to the women." 
In the span of three hours, the original Instagram post featuring the walk racked up 300 comments, according to the brand. In the hours to follow that number swelled to 600 while the likes and views hit over 10,000. Eventually Instagram's famed censor kicked in and within 24 hours of the original post, the finale walk was gone. In its place, the brand published another "censored" walk. That one attracted sarcastic comments like, "Wow a tit was out and shown in a non-derogatory, non-hypersexual, tasteful way."
The collection was themed by discotheques. "It's definitely for that risk taker on the scene that wants jaws to hit the floor," Ault said. The show was the brand's first runway presentation after presenting at trade shows like Hammock for years and showcased their line in addition to a collaboration with the T-shirt company LnA. "It's for confident women who really love their body and are ready to have some attention on it."
Fulton sure got her fair share.