Panorama Festival Preview: Line-up, Weather, Headliners and More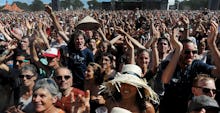 New York City is gearing up for yet another festival experience in Randall's Island Park. Panorama, the three-day celebration of music, technology and art kicks off Friday, July 22, and will feature some of the biggest names in the music industry, from Arcade Fire to Major Lazer and Kendrick Lamar. 
The Big Apple is home to an expanding series of festivals, including Governor's Ball and Panorama, both of which are located at the open-air Randall's Island Park venue. This year's headlining acts include Arcade Fire, Alabama Shakes, Schoolboy Q, FKA Twigs and Major Lazer on Friday night, with Kendrick Lamar, The National, Sufjan Stevens, Flosstradamus, Blood Orange, Foals and Daughter headlining Sautday night. The recently reformed LCD Soundsystem, as well as Sia, A$AP Rocky, Kurt Vile and the Violators, Run the Jewels and Grace Potter, will close the event Sunday.
Unlike Governor's Ball this year, it appears the show will go on without weather being an issue — Gov Ball 2016 was cut short thanks to thunderstorm warnings. 
Most days will be excruciatingly hot, however. Currently, the Weather Channel's forecast estimates that temperatures for the weekend will be in the low 90s, with only 10 to 20% chances of precipitation each day. 
Luckily for those flocking to the island, the weekend of music and partying will be loaded with delicious eats and refreshments to cool off. AM New York reported on each of the food trucks that will be offering their services, and there'll be an equally wide array of taste in food as in music: vendors will be offering everything from pastrami sandwiches to Brooklyn-made donuts and ice cream.
But music and grub aren't the only reasons for festival-goers to arrive once the gates swing open each day at noon. The Verge is presenting a massive installation at Panorama called "The Lab," which will feature seven interactive and virtual-reality multimedia presentations created exclusively by New York artists. The publication posted a video to YouTube teasing the project, which will be exclusive to the Panorama festival:
Check out Panorama's website for information on the upcoming festival, ticket sales and more.
Read more: