German Train Axe Attack Leaves At Least 20 People Injured, BBC Reports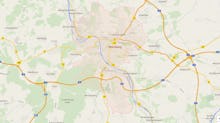 According to the local media in Germany, people were injured in a "rampage" by a man wielding an axe on a train, according to the BBC.
A police operation is reportedly underway in the Heidingsfeld area of Wurzburg, a city in southern Germany.
While reports state that the train line between Wurzburg-Heidingsfeld and Ochsenfurt has been closed, the police have not commented on any reports that the suspect was shot. 
According to the German news agency DPA, police have stated that some of the injuries sustained are life-threatening.
The BBC reported that a police spokesperson has said the axe-wielding attacker was shot dead while attempting to escape, according to local report.
This story is developing.
July 19, 2016 10:30 a.m.: This story has been updated.