'Star Trek Beyond' Reviews: Here's What Critics Are Saying About the Latest Entry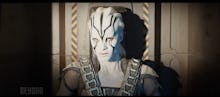 The reviews for the third film in the rebooted Star Trek franchise, Star Trek Beyond, are in and there's good news for passionate Trekkies: It's apparently pretty good. Currently sitting at a 91% "fresh" rating on Rotten Tomatoes, the critical consensus is the new entry into the franchise captures the adventurous tone of the series that made it such a cultural phenomenon. 
Praise was specifically doled out to Star Trek newcomer Justin Lin, the director best known for his work on the Fast and Furious franchise. In turn, he provides the same thrills for the action sequences set with spaceships, rather than high-octane supercars. 
"I'm not sure there's anything particularly original about any of this, but Lin thrives on making clichés breathe again; he proved with his Fast and Furious films that he knows how to convince audiences of the sincerity of prepackaged Hollywood sentiment," Bilge Ebiri wrote in a review for the Village Voice. "And while he may have seemed like a counterintuitive choice to take over a Star Trek movie, Lin is absolutely in his element whenever the film becomes about bodies and vehicles moving swiftly through space — which is often." 
Conversely, the crux of Star Trek Beyond's limitations mainly fall to its villain, Krall (Idris Elba), who acts as a villainous cliché we've already seen from the rebooted franchise: He wants to destroy the Federation, because reasons! The good news, however, is that it's not enough to detract from the positives of a quintessential summer blockbuster.  
"The film's Achilles heel — again — is its villain: Idris Elba gives it his all as lizard-faced psycho Krall, but deep down he's just another muscly warrior with an irrational grudge," Tom Huddleston wrote in a review for Time Out. "Still, that — and a handful of dicey plot holes — aside, this is all fun all the time, a dizzying carnival of wisecracks, fisticuffs, explosions, chases and truly eye-popping effects. Who could ask for more?" 
Star Trek Beyond hits U.S. theaters Friday.
Read more: