How to Make a Churro Bowl Sundae. Yes, a Churro Bowl Sundae.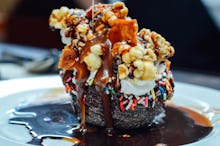 One of the best parts about being alive in 2016 is that you can eat ice cream out of a churro bowl. While there are other edible vessels for ice cream — the the donut cone or the pretzel cone are two splendid options — the humble deep-fried stick of pastry dough is the perfect ice cream cradle. Not only does the cinnamon sugar coating compliment the frozen treat — you get to eat a churro once the ice cream is gone. 
Churros are made from a choux — a cooked dough — which is piped from a piping bag into a deep fryer. This makes it incredibly easy to create churros in different shapes. A number of restaurants serve up churro cones, but the bowl is the optimum form because its construction prevents any mess or sugar-coated fingers. 
While you can make a churro bowl, fill it with ice cream and eat, consider taking a note from Tracy Wilk, the executive pastry chef at David Burke Kitchen in New York City, who transforms the dessert into a full-blown sundae. 
Wilk loads up the churro bowls with not one, but three kinds of ice cream, and a hefty dose of toppings like sprinkles and caramel popcorn. And if those sundae accouterments don't tickle your fancy, fear not: any topping goes. Wilk herself calls upon peanut brittle, caramelized popcorn and two different types of sprinkles, but in the words of T.I., "You could have whatever you like."
Learn how to construct this indulgent masterpiece below: 
1. Pipe the Dough Into a Bowl-Shape
To make a bowl, Wilk flips over a muffin pan and pipes churro dough (use the recipe below) to form a bowl shape. She then freezes the pan until the dough holds together in a bowl shape. 
2) Deep-Fry the Bowl
A churro doesn't unleash its magic until it has been deep-fried. This process takes around 6 to 8 minutes per bowl, since the thick dough must cook entirely through. Wilk recommends keeping it in the deep fryer longer than you suspect to ensure the dough inside is raw. While you wait for your little bowl to fry, set up the topping station. 
3. Coat the Bowl in Cinnamon Sugar
What's a churro without its signature cinnamon sugar coating? After pulling the churro bowl from the deep fryer, allow the bowl to cool slightly toss it in a bowl of cinnamon sugar to coat the entire dessert. 
4. Fill With Nutella and Rim With Sprinkles
To give the dessert more layers, Wilk first fills the bowl with a hefty squeeze of Nutella. She then takes the fudge, or caramel, sauce and pipes a layer around the rim of the bowl. This serves as glue for the rainbow sprinkles to stick to the dessert. 
5. Fill With Ice Cream
Wilk says any flavors of ice cream will work in the bowl, though she prefers to use scoops of three different house made ice cream flavors — including vanilla bean, salted caramel and malted milk chocolate. 
6. Top With Whipped Cream, Brittle and Popcorn
Here's your chance to go wild and free. Wilk fills the gaps between the ice cream scoops with whipped cream and then tops the sundae with pieces of caramel corn and peanut brittle. She says texture is everything when it comes to this treat. You might consider getting in some crunch from goodies like toasted nuts, cookie pieces and pretzels.
7. Drizzle With Fudge and Caramel Sauces
We recommend Instagramming this step.
8. Demolish
Then repeat steps two through eight with any of the remaining bowls. 
How to make Pâte à Choux for Churro Bowl, from David Burke's Kitchen:
Ingredients:
Instructions:
2. Add flour, stirring to help it dissolve.
3. Continuously stirring, the dough should form a tight ball, pulling up from the sides.
4. Place dough in a standing mixer fitted with a paddle attachment.
5. Begin mixing dough on slow speed, letting dough cool down slightly for 3-5 minutes. Once slightly cooled, add eggs, one a time, until dough comes together.
Once dough is made...
1. Spray an inverted cupcake pan with Pam. Place dough in pastry bag fitted with a French star tip. Starting at the top, pipe around the inverted mold, until fully covered.
2. Freeze the dough for 4 hours, ideally overnight, before frying.
Once churros are frozen and ready to fry...
1. Fry churros at 375. When placing into fryer, gently guide them in with a slotted spoon underneath to hold the churro bowl. This will help it stay in shape while frying.
2. Fry until golden brown, about 6 minutes.
Read more: