Alessia Cara Reveals Why She's Ditching Hair and Makeup in Her Recent Performances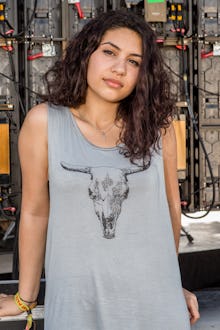 At 20 years old, Alessia Cara has accomplished more than many artists throughout their entire careers. She has opened for Coldplay, had two tracks off her debut, Know It All, chart on the Hot 100, including a top 5 hit in "Here," she's shared a stage with Beyoncé. With her success, one might imagine Cara's notifications are a constant stream of praise and support — but the Canadian R&B artist says that couldn't be further from the truth. 
After landing one of her biggest performances to date at Dick Clark's 2015-2016 New Year's Eve event (and unarguably knocking it out of the park), Cara told Mic she was floored by the negativity when we spoke following an intimate performance at DreamYard Project, an arts center for the youth in the Bronx.
Cara said she was called "homeless" and told she looked like she "worked at Wal-Mart" for wearing a pair of gray jeans during her set. "The thing that bothered me most was that most of the comments were from other women," Cara said. 
Instead of cowering to the criticism, however, Cara rebelled against the norms of the music industry, as well as society's definitions of beauty. 
"It only feels right to be my true self while singing about self-acceptance," Cara tweeted Friday. "Every time I perform this song ["Scars to Your Beautiful"], I am choosing to be 100% natural." 
"As an artist and a female going into this industry, there is such a standard about what a pop star is and if I fit that," Cara said. "With all the things that are going on in the world with race and all this conflict that is happening, I think that this was a really cool time to release ["Scars to Your Beautiful"] because I want people to remember that it goes beyond looks. Beauty can come from inside, and I think people are missing the beauty in other people."
Cara visited a small luncheon in the Bronx and performed her latest single to a crowded room of teenagers there exploring their passions for music and art. It was the antithesis of a pop star's performance — Cara stepped out in jeans and a red shirt, her hair undone, standing in front of her audience with a single guitarist and amp as the crowd of 20 to 30 recorded the experience on Snapchat. 
"People say that I just don't dress like a pop star, or I don't dress the part," Cara said during her Facebook Live interview with Mic. "All I've ever wanted to do is just sing my songs and get my message out there, but all people can care about is what I'm wearing ... people have been so brainwashed into believing that's what matters.
"That's really sad to see other women think that this is the right way to first of all talk to other women, and the right way to think."
Still, Cara says there's hope. "I'm inspired by tons of women right now in the industry, I think we're in a really good place in music where people are free to say what they want to say and do what they want to do," she said.
Read more: