Wichita, Kansas, Black Lives Matter Protest Becomes Barbecue With Police Instead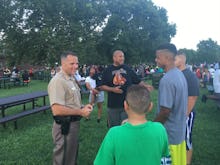 A Black Lives Matter march that was scheduled to take place in Wichita, Kansas, this weekend became a giant barbecue instead after activists and police officers agreed to come together for a community event on Sunday, the Wichita Eagle reported.
The organizers of the scheduled march met with Chief of Police Gordon Ramsay this week and decided to collaborate on a cookout in a local park, which also included a public forum where members of the community could ask Ramsay questions.
Photos uploaded to the Wichita Police Department's Facebook page on Sunday show officers and community members eating, playing basketball and bouncing in a bouncy house together.
To many online commenters, the casual coming together of police and civilians was a welcome sight after a tumultuous few weeks that included the police killings of Alton Sterling in Louisiana, Philando Castile in Minnesota and deadly attacks on police officers in Dallas and Baton Rouge.
Read more: