Pandemonium Erupts as 2016 Republican National Convention Shoots Down #NeverTrump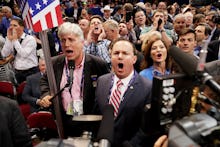 CLEVELAND — Underscoring the deep divisions tearing at a Republican Party on the cusp of nominating Donald Trump for president, the floor of the Republican National Convention became the scene of angry protests Monday afternoon as delegates opposed to Trump's nomination demanded a full floor vote on the convention's rules.
Delegates from Colorado, Washington, Utah, Minnesota, Wyoming, Maine, Iowa, Virginia and Washington, D.C., set the chaos into motion on Monday, saying that a majority of their delegations had signed onto an effort to force the full convention to vote on the rules — a scenario that could have "unbound" delegates and allowed them to vote for any candidate of their choosing.
But speaking from the convention stage, Rep. Steve Womack of Arkansas declared the convention's rules approved by voice vote — ignoring the protests of anti-Trump delegates demanding a roll call vote.
Supporters of the effort to force a vote described Womack's move as part of "Donald Trump's rigged system" and a "miscarriage of justice," appropriating the anti-establishment language frequently employed by the presumptive GOP nominee.
Among the supporters of the roll call effort was Sen. Mike Lee of Utah, a tea party Republican who backed Sen. Ted Cruz of Texas in the GOP primary and described the scene Monday as unprecedented.
Ken Cuccinelli, the former attorney general of Virginia and also a Cruz supporter, joined the protest, throwing his credentials on the floor.
The convention floor protest came hours after Paul Manafort, the chairman of Trump's campaign, declared at a press briefing that the GOP is "unified" heading into the general election contest against presumptive Democratic nominee Hillary Clinton.
July 18, 2016, 5:30 p.m.: This story has been updated.
Read more: