Baltimore Photographer Tenney Mason Was Arrested and Held for 7 Hours at Afromation March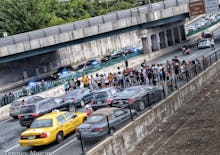 When Tenney Mason decided to check out the protest against police brutality in Baltimore on Saturday, he probably didn't think he would be among the 65 people arrested for blocking the highway.
Mason was arrested at the "Afromation" march, which was organized by Makayla Gilliam-Price, Baltimore Bloc, Leaders of a Beautiful Struggle, Showing Up For Racial Justice SURJ Baltimore and more, according to the Baltimore City Paper.
Mason said he wasn't aware of the protest at first: He was originally in the area for ArtScape, an annual arts festival in Baltimore. But as soon as he saw the protesters in the same area, his journalistic instincts took over. 
"I am a former newspaper photographer, I can't let that go on without getting some pictures," the 72-year-old retired photojournalist said in an interview with Mic. "So I just started taking pictures of them and followed them." 
The march, which began around 5 p.m., was characterized by Baltimore Bloc as an "affirmation of black life" and "a gathering of persons dedicated to reversing the cycle of brutalization, desensitization, and surveillance."
The march eventually led the protest onto Interstate 83, where the protesters attempted to interrupt traffic. Mason followed the protests onto the exit ramp, where he would soon be confronted and arrested by police.
"Once on the interstate, they locked arms and blocked traffic along the northbound lanes for a short period of time before officers arrived and began making arrests," Baltimore police spokesman Lt. Jarron Jackson told the Baltimore Sun in an email. 
"Basically one of them said, word-for-word, 'you're just in the wrong place at the wrong time. You're going to have to be arrested'," Mason recalled. 
Mason and a number of protesters were taken to police vans, where they spent hours handcuffed waiting to be processed by police.
"Basically we didn't get out of those paddy wagons, except for, you know, a 15-minute break, for more than six and a half hours," Mason said of their time within the police van. "We were sitting in the paddy wagons, butt to butt for seven hours. It was about 90 degree heat. The guy next to me after about an hour or so, puked and passed out."
"The Afromation protesters were subject to some of the craziest conditions seen in this city since the uprising," Baltimore Bloc organizer Ralikh Hayes said in a statement. "One of the more pressing issues is the over six hours that I and other protesters spent in the back of police wagons with flex cuffs on, leaving our bodies bruised and sore."
"It was like being tortured," Mason recalled. "If they had wanted me to confess something, I would have confessed to get outta there. It was a horrible experience."
After the harrowing ordeal, several protesters arrested received citations for "illegally walking on the highway" and "failure to obey a police officer," according to City Paper. Despite the long wait, Mason quickly made friends with his fellow detainees. 
The group shared stories and jokes to help pass the time. "When you're stuck with six other people in a situation like that, you get to become friends real quick," Mason said. 
"We had a really diverse group. I really enjoyed the people that I was with." 
Some of those arrested Saturday will be attending a meeting Tuesday night with lawyers and legal advisors to discuss next steps. Mason will also attend the meeting and is excited about seeing everyone he met. 
"I'm really looking forward to this legal meeting tonight and talking with them in a less stressful environment."
Read more: