'RuPaul's Drag Race': Ranking All the All-Stars Queens' Best Lip-Sync Performances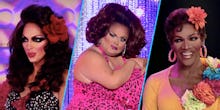 Unlike nearly every other reality show, being in the bottom two isn't the worst thing on RuPaul's Drag Race. True, you've got a 50-50 chance of going home. But for the best queens, bottom-two placement offers a chance to shine. 
At the end of each Drag Race episode, the bottom-two competitors must lip sync for their lives — rather, they must perform a lip-sync to a song against their fellow bottom-dweller. Whomever impresses RuPaul more gets to stay. Whomever impresses the audience gets added to the annals of truly great lip-sync performances.
The upcoming All Stars season of Drag Race features some of the show's best lip-syncers. This promises to bring some truly epic showdowns at the end of every episode. As we look forward to that, we've collected our favorite lip-sync performances from each of the All Stars queens. These are the moments when, even in the worst possible situation, these girls turned a show and captured their place in fans' hearts forever.
Adore Delano
For as accomplished a queen as Adore was when she left Drag Race, she spent a lot of the competition skating by on charisma. Like Shangela before her, Adore was a young, feisty queen whose charm made up for her lack of polish. That said, she could turn it out when her back was against the wall — like when she landed in the bottom two after a talk show challenge.
The song: "Vibeology" by Paula Abdul, to be performed right in front of Abdul herself. The challenger: Trinity K. Bonet, who had already sent two other girls home in lip-sync-for-your-life situations. Yet against all odds, Adore turned it out.
Alaska
Fun fact: Alaska is the only All Stars 2 queen to never have to lip-sync for her life on her season of Drag Race. She did perform the season's Ru anthem, "The Beginning," during the final competition episode, but the final lip-sync isn't for elimination. It's more like one last show of talent before the finale. 
Instead, let's look to her performance of Yma Sumac's "Malambo No. 1" at the season five premiere party. "Malambo" is season five winner Jinkx Monsoon's signature lip-sync song after her winning performance of it in the top four episode, but Alaska proved more than capable of making it her own — live in front of an audience, too.
Alyssa Edwards and Coco Montrese
Season five rivals Alyssa Edwards and Coco Montrese came into the competiton with a history. The former friends fell out over a pageant scandal that required Alyssa to give up her crown and Coco to take it up. The resulting bad blood coarsed throughout the season — so it's fitting the two finally faced off on-stage, lip-syncing "Cold Hearted" by Paula Abdul.
The resulting performance is nothing short of legendary. The two queens bring every bit of their rivalry to their lip-sync, with Alyssa pulling out gymnastic moves left and right, and Coco going so far as to point at her lips to draw attention to how perfectly her mouth was matching the song.
"Cold Hearted" remains one of the best lip-syncs in Drag Race herstory. We can only hope the two go up against each other again during All Stars 2.
Detox
Detox has a special technique when she lip-syncs: She almost seems to unscrew her jaw to allow for fast back and forth movements. The result is a campy approximation of vibrato — perfect for an artist like Cher. So when Detox was made to lip-sync "Take Me Home," even against formidable opponent Lineysha Sparx, there was little doubt as to who was going to win.
Ginger Minj
Ginger Minj faced down one of the strangest lip-sync-for-your-life experiences in season seven: performing while physically attached to another queen, after a "Conjoined Queens" makeover challenge. She and her teammate Sasha Belle had to perform "I Think We're Alone Now," Tiffany's mall-tour anthem, against two-time lip-sync winner Jaidynn Diore Fierce and her partner Tempest DuJour.
What followed in the performance hit a new level of surreal. Ginger and Sasha, conjoined at the breast, used a smuggled pair of scissors to detach themselves. They rolled around on the floor. They went for the delirious and delicious, and Ginger saved herself. Fellow competitor Katya called it "the most epic lip-sync ever," and while that was maybe a bit hyperbolic, the sheer bizarre quality of this performance cannot be denied.
Katya
Occasionally, the lip-sync for your life song has a special tie to the guest judge of the week. During the second episode of season seven, Katya and Sasha Belle had to perform "Twist of Fate" right in front of Olivia Newton-John. Sasha cracked under the pressure, while Katya soared. Her splits were as impressive as her interpretation of the song. Katya went on to become a fan favorite, and watching this performance, it's easy to see why.
Phi Phi O'Hara
Phi Phi O'Hara, season four's villain, had to lip-sync exactly once. It was against her rival, Sharon Needles; the two had to team up for a singing challenge and whiffed it. So while clad in angel and devil costumes, the two faced off while performing RuPaul and Martha Wash's "It's Raining Men ... The Sequel." Much like Alyssa and Coco's showdown, the lip-sync was informed by their rivalry, with both queens giving everything in their arsenal.
Their enmity didn't end there, either. Thanks to fellow contestant Willam's disqualification, neither Phi Phi nor Sharon went home. Their feud wouldn't be resolved until the finale, when Sharon took home the crown.
Roxxxy Andrews
RuPaul cites Alyssa Edwards and Roxxxy Andrews' battle to Willow Smith's "Whip My Hair" as her favorite lip-sync for your life ever. There's a few good reasons for that. The performance is high-energy from the first moment. Alyssa gets down on the floor and dances like it's the last lip-sync she'll ever give. But at the end of the day, there's really one thing about this lip-sync that matters.
The wig reveal.
Knowing she might be lip-syncing, Roxxxy wore a second, more tightly fitted wig underneath her first wig. She revealed the second mere seconds into the song, sending Ru and head judge Michelle Visage into fits of joy. She used the wig to toss around her hair furiously. It was the kind of moment that inspires gasps upon every rewatch. The rest of the performance, great as it was, was secondary. This was the money shot.
Tatianna
Even Tatianna was floored when she beat Puerto Rican queen Jessica Wild in their lip-sync to Sister Sledge's "He's the Greatest Dancer." Looking back, though, she shouldn't have been so shocked. Yes, going into the performance, one would have favored Jessica. She had just won a live-singing challenge the week before, and Tatianna was more known for her look than her talent among her fellow competitors.
But Jessica went too, well, wild with her interpretation. Tatianna kept things controlled, confident and cool. Her sexy performance proves that even when talking about drag queens and lip-syncing, sometimes less is more.
Read more: