Pat Smith at RNC: "I Blame Hillary Personally for the Death of My Son" in Benghazi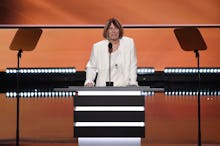 Patricia Smith, the mother of one of four Americans killed in the embassy attack in Benghazi, Libya, said during a speech Monday night at the Republican National Convention that she blames presumptive Democratic nominee Hillary Clinton "personally" for her son Sean's death.
"For all of this loss, for all of this grief, for all of the cynicism the tragedy in Benghazi has wrought upon America, I blame Hillary Clinton," Smith said.
Republicans have made the attack in Benghazi a center-point in their argument against a Clinton presidency. They've spent millions to investigate the attack, which ultimately found no wrong-doing on Clinton's part.
It's likely why they gave Smith a prime-time speaking engagement to blast Clinton's response to the attack.
"Hillary Clinton is a woman, a mother and a grandmother of two. I am a woman, a mother and a grandmother of two. How could she do this to me? How could she do this to any American family?" Smith said.
She went on to praise presumptive Republican nominee Donald Trump, saying he is "everything Hillary Clinton is not."
"He is blunt, direct and strong," Smith said. "And, when it comes to the threat posed by radical Islamic terrorism, he will not hesitate to kill the terrorists who threaten American lives."
Smith ended her speech with an unusual cry.
"Hillary for prison," Smith said. "She deserves to be in stripes."
Read more: