Leslie Jones Spent Her Entire Day Responding to Disgusting Racist and Sexist Tweets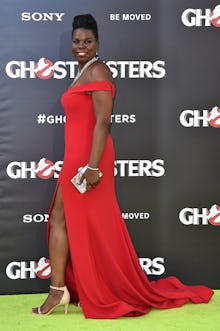 While Twitter continues to ignore its need to update its abuse policies, Saturday Night Live and Ghostbusters star Leslie Jones spent most of her Monday highlighting tweets she received from racist and sexist trolls. 
Jones tweeted that the vitriol she's received is "fucking disgusting" and invited people to go to her wall to see all the tweets she's received from people. 
As Jones said, most of the tweets she received included racist comparisons to apes. Many of the tweets compared her to Harambe, the gorilla killed in May by zookeepers in Cincinnati Zoo. 
Comparing people of color to gorillas stems from a centuries-old racist belief among Western whites that black people were "mentally inferior, physically and culturally unevolved, and apelike in appearance," according to one study. Popular in the 1800s and early 1900s, minstrel shows asserted these racist depictions of black people by putting white people in black face and accentuating certain facial features to poke fun at black people. 
The online vitriol comes on the heels of Ghostbusters' first weekend in theaters. The tweet storm is especially ironic in that the movie is a dissection of the harassment, taunting and general unpleasantness that women face on the internet. 
Controversial right-wing firebrand Milo Yiannopoulos responded to Jones' tweets by trying to paint her as "[playing] the victim" and when she responded, he insulted her intelligence. 
After Jones blocked him, he tweeted sarcastically he was "rejected by yet another black dude." 
As Monday night came to a close, Jones requested that her Twitter users be vocal about sexism and racism on Twitter. 
People retaliated by requesting that Twitter ban Yiannopoulos — who uses the handle "@Nero" — though as of press time, they were not successful. 
Many also tweeted their support.
By the end of the night, Twitter CEO Jack Dorsey reached out to Jones and asked her to direct message him. 
Here's hoping something comes of this. 
Read more: