Rudy Giuliani's RNC Speech Is the Screamiest Moment of the Night So Far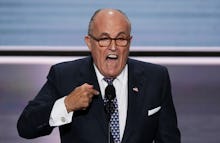 Former New York City Mayor Rudy Giuliani screamed nearly his entire speech at the Republican National Convention Monday night, declaring Donald Trump to be a good man "with a big heart" who will make America safe.
"He will keep us safe and help us achieve and embrace our greatness," Giuliani said in his speech, which went much longer than his prepared remarks and which he delivered in a near constant shout.
Giuliani spoke about protecting police officers, fighting "radical Islamic terrorism" and said presumptive Democratic nominee Hillary Clinton cannot be trusted.
He blamed the media for taking Trump's positions out of context, and said Trump is "a good man."
But all Twitter could hear was the decibel level with which he delivered his words.