Log Cabin Republicans Call Republican National Convention Platform "Sad!"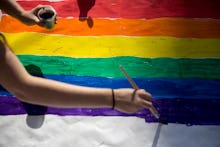 CLEVELAND — The nation's largest gay Republican group is trashing the Republican National Convention platform as "vitriolic" in its homophobia — and they're taking the words straight out of Donald Trump's mouth to do it.
The Log Cabin Republicans are running a full-page ad in Cleveland-area editions of USA Today in a slam on the presumptive GOP nominee ahead of his formal acceptance speech.
The text of the ad echoes Trump's campaign trail rhetoric, reading:
LOSERS! MORONS! SAD! No, these aren't tweets from Donald Trump. This is what common-sense conservatives are saying about the most anti-LGBT platform the Republican Party has ever had. GOP Platform Committee: Out of touch, out of line and out of step with 61% of young Republicans who favor same-sex marriage.
In a statement released Monday, Log Cabin Republicans President Gregory Angelo said that "response from allies to our reaction in the wake of the drafting of this vitriolic anti-LGBT platform has been nothing short of staggering."
The GOP platform included this wording:
Traditional marriage and family, based on marriage between one man and one woman, is the foundation for a free society and has for millennia been entrusted with rearing children and instilling cultural values. We condemn the Supreme Court's ruling in United States v. Windsor, which wrongly removed the ability of Congress to define marriage policy in federal law.
It went on:
We endorse the First Amendment Defense Act, Republican legislation in the House and Senate which will bar government discrimination against individuals and businesses for acting on the belief that marriage is the union of one man and one woman.
On July 12, Log Cabin Republicans railed against the revised platform announcement in a fundraising email that generated widespread interest on social media — and, as a result, money to finance the ad slamming the party.
"It's my hope this advertisement will be a wake-up call to the intransigent and ancient voices on the GOP Platform Committee that marriage equality is the law of the land, gay families are a part of the fabric of America, and LGBT Republicans have an important role to play in growing the Party," Angelo said in the statement.
A Republican National Committee spokesperson couldn't immediately be reached for comment.
1:02 a.m.: This story has been updated.