'The Late Show With Stephen Colbert' Brings Back Jon Stewart to Take Down Donald Trump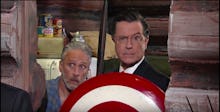 Just after Jon Stewart left The Daily Show, we saw real estate mogul Donald Trump's meteoric rise as a presidential candidate — an event that desperately called out for his commentary. But if Stewart remains absent as Americans' satirical media conscience, at least he's bringing back another old favorite: the conservative persona of Stephen Colbert. 
A sketch on Monday night's episode of The Late Show With Stephen Colbert was a Comedy Central reunion. Colbert searched for his old mentor to help him during the Republican National Convention coverage. He finds Stewart in the woods, blissfully unaware of the chaos of this year's presidential election, presuming that Jeb Bush would be the Republican nominee. 
His reaction to discovering that Trump is the presumptive Republican nominee was expected — especially after he asks Colbert if he's allowed to take a swig of water as the name is unveiled. 
While a flabbergasted Stewart wasn't able to provide much help, he had a comrade in his unassuming cabin that would be up to the task of dissecting the Trump phenomenon: The Colbert Report alter ego of Stephen Colbert. With that, the old Colbert made his glorious return to television, with a patriotic entrance featuring the American flag, his trademark Captain America shield and a chariot. 
"Hello, nation," Colbert began. "Did you miss me? I know I did. ... Nation, right now, Americans are angry, confused and lashing out randomly — and that's just the Republican nominee." 
Colbert brought back a signature bit from his Colbert Report days along with him, "The Word," and this segment's phrase was "Trumpiness." He compares it to a term he coined on his former show, "truthiness," which is when something feels true, despite no factual evidence existing to supported it. 
Hopefully this isn't the last time we see Stewart or the old Colbert — we need them now more than ever. 
Watch both segments from last night's episode below.
Read more: